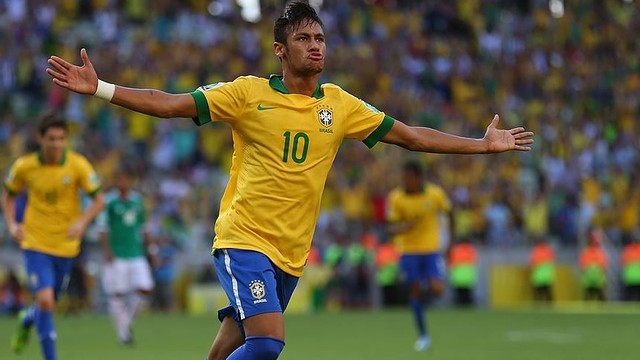 A volley from the newest FC Barcelona player shows Brazil the way to victory over Mexico
Neymar, after a phenomenal individual play, links up with Jo, who scores the definitive 2-0
Alves and Neymar played the 90 minutes against Mexico
MATCH FACTS
Brazil, 2
Mexico, 0
Brazil: Júlio César, Dani Alves, Thiago Silva, David Luiz, Marcelo, Luiz Gustavo, Paulinho, Oscar (Hernanes, min 62), Neymar, Hulk (Moura, min 78), Fred (Jo, min 82)
Mexico: Corona, Mier, Maza, Moreno, Torres Nilo (Barrera, min 69), Salcido, Torrado, Flores (Herrera, min 57), Guardado, Giovani, Chicharito
Goals: 1-0, Neymar (min 9); 2-0, Jo (min 93)
Referee: Howard Webb (ENG)
Six out of six for Neymar and Alves' Brazil. The hosts of the Confederations Cup defeated Mexico thanks to a goal and an assists from the newest FC Barcelona player. Both Neymar and Alves played the entire 90 minutes of the match in Fortaleza.
Another beauty from Neymar
Brazil started the first half off with a bang. The first minutes saw the host nation overwhelm Mexico, who managed to keep their rivals off the board for nine minutes. In the play leading up to the goal, Neymar one-timed a loose ball with his left foot and sent it rocketing into the back of the net. It's the player's second goal in as many games in the Confederations Cup.
Before the break Brazil could have increased their lead. Alves tried his luck with a fantastic chip shot and Neymar fired from long range, but both attempts were just off their mark.
More magic
Little changed after the break. Mexico tried to fight back, but Brazil set the pace of play. Hulk and Neymar enjoyed great chances to double Brazil's lead, but neither managed to find the back of the net. In the dying minutes of the match, the ex-FC Barcelona player Giovani dos Santos came close to equalising for Mexico, but it was the Brazilians who got the goal.
Neymar, marked by two defenders, trotted down the left flank and quickly left them both in his wake. He then connected with Jo, who rifled the ball past the Mexican keeper for Brazil's second.