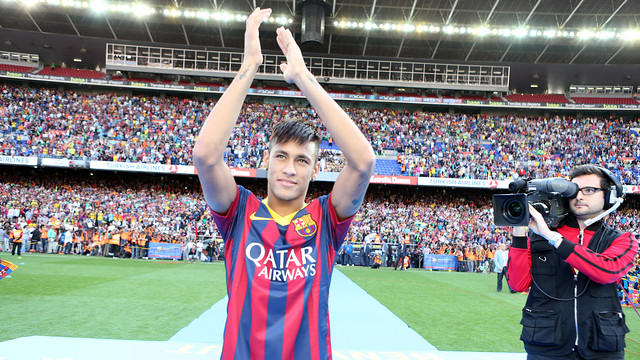 56,500 FC Barcelona fans came to the Camp Nou to welcome Neymar to the Club
"Barça are more than a Club and a great team and I want to help Leo Messi to continue to be the greatest player in the world," he said
Neymar da Silva donned the Balugrana strip for the first time as he trotted out onto the pitch of the Camp Nou for the first time. After a frantic and intense day, the player finally got to meet the FC Barcelona fans at 18.35. 56,500 fans greeted the Brazilian star with a lot of enthusiasm when they saw his for the first time. Very few players have garnered this much attention from the Camp Nou faithful.
Packed Camp Nou welcomes Neymar
Neymar, who was accompanied by a group of children from FCBEscola and the FC Barcelona hymn when he came out onto the pitch, started to juggle the ball to the delight of the crowd. He then addressed the fans: "Good afternoon everyone," he said in Catalan, "I'm very happy to be a Barça player. I'm very excited, I've realised a dream. Thank you so much and Visca el Barça!"
[[CITA_1]]
"I came to help. Barça are more than a Club and a great team and I want to help Messi to continue to be the best player in the world," he said during his interview with Barça TV journalist, Laura Aparicio. Neymar then took a lap around the pitch and greeted the fans as he launched footballs into the crowd.
Before he left the stadium, the Brazilian snagged two FC Barcelona flags and he posed for pictures in front of the gathered photographers.
I want to help Messi to continue to be the best player in the world