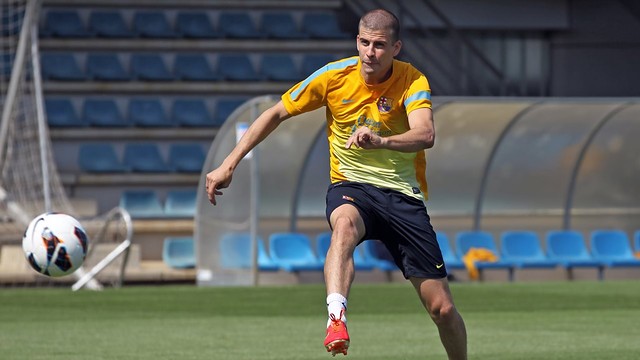 One of the areas where Barça are likely to be looking for reinforcements this summer is in the centre of defence. But Gerard Piqué insists that new faces are more than welcome.
In an interview with El Mundo Deportivo, he has also spoken frankly about the humiliating 7-0 aggregate to Bayern Munich and the lessons that experience has taught the team.
It's always disturbing for a player to hear that his club is looking to sign new players in his position, but Gerard Piqué is taking a professional attitude to the situation. "It's normal for Barça to want to improve each year" he says. "We want to win everything each season and to do that we need the best squad possible. If the club thinks we need knew defenders, so be it. This season we have let in more goals than before and we need to improve."
New faces
Asked about potential new partners for him in defence, the Catalan mentioned "Thiago Silva, Hummels, Kompany … They are all great players at big clubs. But it's the managers who have to decide."
One new player who Piqué already knows will be lining up with Barça next season is Neymar, who he faced in the Clubs World Cup final against Santos. "Although we won that final well, he showed that he's a good forward and you have to watch him all the time" he said. "He's skilful, fast, and has plenty of resources to break free from defenders.
But what does Neymar's arrival mean for Leo Messi? Gerard Piqué thinks it'll make the Argentinian even better. "Having Neymar in the team will help Messi. Teams often try to mark him out of the game, but with Neymar in our side at least two opponents will have to keep an eye on someone else … And Neymar is the kind of player that the Camp Nou likes and that's good because it'll mean the crowd will be livelier."
Sad farewells
Players come and players go. Eric Abidal's departure has already been conformed, and David Villa and Victor Valdés might also not be around next season. "It's always tough when a team-mate has to go, especially when they're such good players and nice people too" said Piqué. "I don't know how things will end up with Villa and Valdés, but I wish Abi luck wherever he goes because he deserves it … His farewell was emotional and the club treated him well from the moment it found out about his illness … But we also know that in his case he'll be back with us in a few years' time."
Lessons from Bayern
Generally, Piqué was pleased with the way the 2012/13 season went, but the heavy defeat to Bayern Munich in the Champions League semi-final was a tough one to swallow. A lot of lessons were learned that night. "They came into the game in strong form and we weren't one hundred per cent with Messi not fully fit in the first leg and not playing at all in the second … But of course there are things to be learned. Barça can't lose a round 7-0, we know that and we have to improve … We have to run more, we have to make more of an effort on a group and individual level to get back to the top. This team has always fought hard and we have to keep doing that. We need to realise that we're not the best any more, and our challenge now is to get back to being the best."