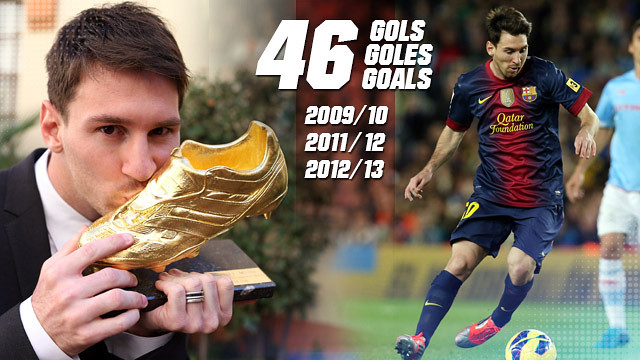 The Argentinian won the two awards thanks to his 46 goals in La Liga this season
Messi is the first player in the history of the sport to win three Golden Shoe awards

The injury Leo Messi picked up at the end of the season didn't stop the player from putting up exceptional numbers for FC Barcelona this year. The Argentinian claimed the Pichichi trophy after scoring a total of 46 goals in the league, and he also won the coveted European Golden Shoe, an award given to the top goalscorer out of all the domestic European leagues. This is the third time Messi has won both awards.
92 points in the European Golden Shoe
Cristiano Ronaldo is the runner up for both awards. In La Liga, Messi outscored the Portuguese player by 12 goals, while in the standings for the Golden Shoe, the Argentinian has Ronaldo beat by 24 points (each goal in the major European leagues is awarded two points). Messi notched up a total of 92 points, to Ronaldo's 68, Cavani's 58, Falcao's 56 and Van Persie and Jackson Martínez's 52.
First triple crown
Messi is the first player in the history of football to win three Golden Shoe awards. However, there are many who have secured two Golden Shoe awards throughout their careers: Portugal's Eusebio (1967/68 i 1972/73), Fernando Gomes (1982/83 and 1984/85) and Cristiano Ronaldo (2007/08 and 2010/11), Germany's Gerd Müller (1969/70 and 1971/72), Romania's Dudu Georgescu (1974/75 and 1976/77), Brazil's Mario Jardel (1998/99 and 2001/02), Uruguay's Diego Forlán (2004/05 and 2008/09), Scotland's Ally McCoist (1991/92 and 1992/93) and France's Thierry Henry (2003/04 and 2004/05).
Messi maintains his average
In the last couple of seasons Leo Messi has been hauling in record-breaking amounts of goals each year. Here's a quick look at his goal average for the past five seasons:
Season 2012/13. 60 goals in 50 matches (1.20 goals per match)
---
Season 2011/12. 73 goals in 60 matches (1,22 goals per match)
---
Season 2010/11. 53 goals in 55 matches (0,96 goals per match)
---
Season 2009/10. 47 goals in 53 matches (0,89 goals per match)
---
Season 2008/09. 38 goals in 51 matches (0,75 goals per match)
Leo Messi's profile