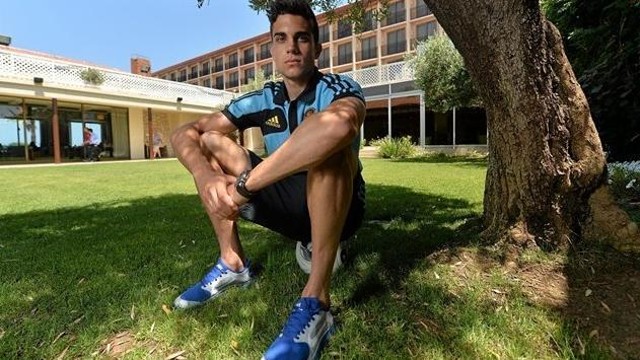 "There's a great atmosphere off the pitch. We're a team, we have a great group of players," says Bartra

Marc Bartra, and the other four FC Barcelona players (Thiago Alcántara, Marc Muniesa, Martín Montoya and Cristian Tello), are currently competing for the U21 European crown in Israel. The full back, who's featured in two of Spain's three fixtures thus far, will make an appearance against Norway in the semi-finals on Saturday (17.30).
"Barça and Spain play very similarly. It's an advantage that we do similar things here as we do at Barça. There are many of us here [Barça players] and what we do with FC Barcelona we also do here," said Bartra, who's featuring in his first U21 European Championship tournament. The Catalan explained that "there's a great atmosphere off the pitch. We're a team, we have a great group of players."
For Bartra, the fact that Spain has reached the semi-finals in spectacular fashion (winning all three of their games) doesn't make the team favourites for the title. "We'd be lying to ourselves if we thought we were favourites because we've won everything so far. If you need an example, look at our first match of the tournament, against Russia," said Bartra, who added, "the fact that we focus on retaining possession makes the defence more aware of the match. They don't attack a lot, but when they do many of them come forward and you have to be aware. You have to be focus so they can't get behind you."
On his style of play, Bartra said that his managers have helped him improve his skill on the ball. "Since I was a kid I practiced starting plays with the ball under control. Guardiola, Tito, Milla, Lopetegui and Eusebio all taught me that," said Bartra.