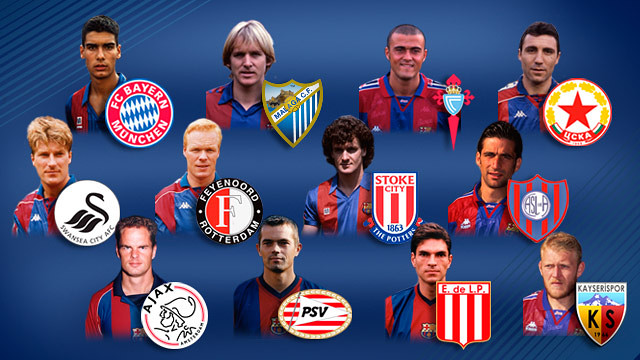 Various ex-Barça players managed prestigious clubs, like Bayern Munich (Guardiola), Ajax (Frank de Boer), Feyenoord (Koeman) or Málaga (Schuster)
They manage throughout the world: Bulgaria (Stoichkov), the United Arab Emirates (Milla), or Argentina (Pizzi)

Now that the season is over it's time to think about the upcoming year. Summer is the season of change in European football, and it's not uncommon to see managerial shakeups on the benches of European teams, many of which are now occupied by ex-FC Barcelona players. This summer, for example, Josep Guardiola was picked up by Bayern Munich, Phillip Cocu by PSV, Bernd Schuster by Málaga and Luis Enrique by Celta. In addition to them, Ernesto Valverde, Laurent Blanc and Oscar García are targets for various teams across the continent.
From Segunda A to U21
Other ex-Barça players have consolidated their position as head manager of their respected teams. Starting at home, Tito Vilanova and Eusebio Sacristán, Barça and Barça B managers respectively, have been with their teams years (in Vilanova's case, he was named head manager last season after being assistant manager to Guardiola for four seasons). Also, Lluís Carreras has made a name for himself at Sabadell, as he managed the team to a promotion-winning season (Segunda A) this year, and Sergi Barjuan (Recreativo) and Onésimo Sánchez (Murcia).
Ramón Calderé (Burgos), Abelardo (Sporting B) and Miquel Soler (Mallorca B) have all been doing great work with their respective teams in Segunda B. In addition to club football, there are ex-Barça players managing international teams. Julen Lopetegui, for example, is the manager of the U21 Spain team. Others, like Villena, lead the Barça Veterans team.
Throughout Europe…
It's not just in Spain where ex-Barça players are making a name for themselves on the bench. In the Netherlands, in addition to Phillip Cocu (PSV), we have Ronald Koeman (Feyenoord) and Frank de Boar (Ajax). In the Premier League we have Michael Laudrup (Swansea) and Mark Hughes (Stoke City), while in Bulgaria we have Hristo Stoichkov managing CSKA Sofia. In Turkey we have Robert Prosinecki, who manages Kayserispor.
… and also America
In Argentina Juan Antonio Pizzi manages San Lorenzo de Almagro and Mauricio Pellegrino has taken charge of Estudiantes de la Plata. In the Peruvian league José Mari Bakero manages Juan Aurich.
Moving across the Pacific and Indian oceans, Luis Milla manages Al Jazira Sporting Club in the United Arab Emirates.
There are others who are assistant managers. Juan Carlos Unzué (Luis Enrique's second at Celta), Roger García (second in command at Sabadell), Roberto Bonano (O'Higgins in Argentina), and Meho Kodro (Real Sociedad).