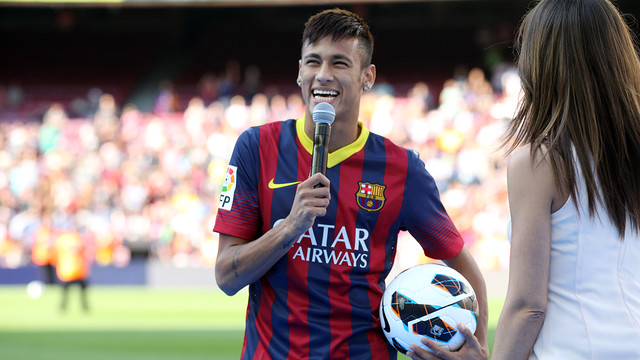 The Brazilian says that he was "very emotional" when he signed for Barça and he explains that he "was led by his heart" to become a Blaugrana
He also admits that he spoke with Vilanova, but he has yet to speak with Messi: "I'm very eager to find him and hug him. I want to help him to continue to be the best player in the world"

Neymar's intense day in Barcelona came to a conclusion with a press conference after he had been presented officially as an FC Barcelona player. "I'm very happy to be here. This has always been my dream, both when I was a child and now that I'm an adult," said a very happy Neymar, who was very close to tears. "I'm very emotional to have a the chance to play alongside players who I have admired since I was a kid, like Messi, Xavi and Iniesta," said the 21-year-old.
A family decision
When asked about his reasons for choosing to play for FC Barcelona over other teams, Neymar said, "big clubs wanted to sign me, but I was led by my heart. This means that I was convinced and happy to sign for Barça. It was a family decision. I always speak with my father, with my mother and with my whole family." The Brazilian then admitted that he was close to crying when he first stepped out onto the pitch of the Camp Nou for the first time.
Adjusting and learning
"I'll play my football. I hope to adapt as quickly as possible, hopefully it will all work out. I think it could be a difficult change for me, but I believe that I need to adapt quickly so that I can have a normal life and so that I can bring joy to the fans," he said.
The Brazilian also confessed that he doesn't have a preference on where he plays on the pitch, and that he'll improve at Barça: "I'm convinced that I'll evolve quite a bit alongside these fantastic players." He also admitted that he has yet to figure out a few family matters, seeing that his son lives in Brazil.
[[CITA_1]]
When asked about Barça's star player, Leo Messi, Neymar only had words of praise for the Argentinian: "I think it will be very easy to play alongside the best player in the world. I'm here because I want to help him to continue to be the best and help him win more FIFA Ballons d'Or." Neymar also said that he has yet to speak to the Argentinian genius: "I haven't done that yet, but I hope to find him soon so that I can give him a hug."
He has, however, spoken with Tito Vilanova: "I talked to him over the phone and we have a very brief conversation. We didn't talk about what position I'll play in or anything like that. He only asked me how I was feeling and I inquired about his health, because he was sick at the time."
[[CITA_2]]
Neymar then went on to talk about his childhood devotion to the Club. "I've always admired Barça. Since I was a child, because a lot of great players have played here, Brazilians and non-Brazilians. I've always followed the team. I've had this dream since I was a child and today I thank God that I can be here." The forward explained that Ronaldinho, who was singed for Barça 10 years ago, is his earliest memory of Barça. "I watched him a lot when I was a kid, and he played for Barça," he added.
[[CITA_3]]
Neymar believes that this summer "was the ideal time" to move to Barça and that he wasn't influenced by the opinions from certain fans or journalists. When asked about what number he'd like to wear on his shirt next season, he said: "I've never really been preoccupied with the number. I don't know which one I'll get, I've never had a preference."
I'm here because I want to help Messi to continue to be the best and help him win more FIFA Ballons d'Or
I talked with Tito over the phone and we have a very brief conversation. We didn't talk about what position I'll play in or anything like that. He only asked me how I was feeling and I inquired about his health, because he was sick at the time
I've never really been preoccupied with the number. I don't know which one I'll get, I've never had a preference