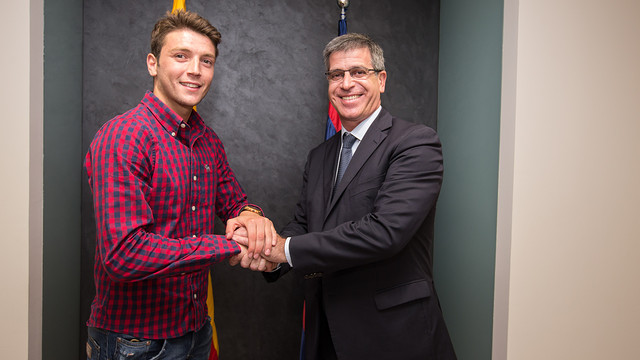 The Barça B captain will be staying with the reserves for two more years, with his buyout fee now set at 12 million euros
Barça B will be keeping its captain for another two years. This Thursday Ilie Sánchez renewed his contract with FC Barcelona until June 30, 2015. The midfielder's buyout fee will now be 12 million euros. He signed his new contract in the company of director Jordi Mestre.
All too easy

After putting pen to paper, Ilie Sánchez admitted to feeling overjoyed at a decision he describes as having been "all too easy. I am so happy to be staying at this Club and everything that it represents." Speaking to Barça TV and fcbarcelona.cat, he added that "I am happy with my team-mates and the coaching staff. I think there's a wonderful atmosphere here".

The player is thrilled with the way the season has gone for Barça B in Division 2A: "It has been an excellent season in terms of effort, sacrifice and desire. We've suffered a lot and managed to get through some difficult times. So I'm happy with the results we've achieved".

Strong character

Ilie has played 27 matches this season, with one still to go, and started 21 of them. The locally born player was named captain at the start of the season in replacement for Armando Lozano.

Having fully recovered from a heel injury that meant he only played one game the season before, Ilie Sánchez has regained a regular place in Eusebio's plans this season. The 22-year old is admired for his balanced football and for being so versatile that he can play in most midfield positions or even at right back. Next season will be his fifth with the Barça second team.