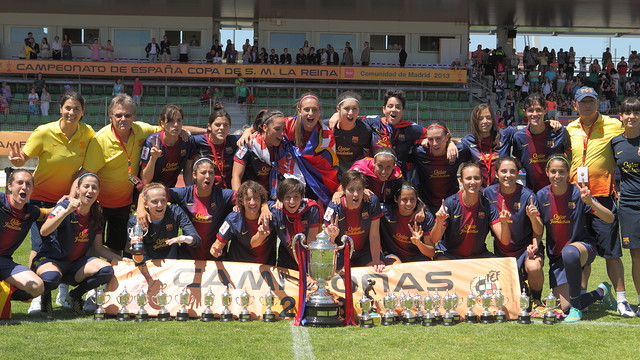 The women's team managed by Xavi Llorens has defeated Zaragoza 4-0 in the Queen's Cup final to take their third trophy of the season on the back of winning the League and Copa Catalunya
Woman of the match Alexia scored a great third goal after going past two opponents
MATCH STATS
FC Barcelona, 4
Transportes Alcaine Prainsa Zaragoza, 0
FC Barcelona: Laura Rafols, Laura Gómez (Kenty Robles), Melisa Nicolau, Marta Unzúe (Laura Gutiérrez), Melanie Serrano, Virgínia Torrecilla (Gema Gili), Vicky Losada, Míriam Diéguez, Alexia Potellas, Sonia Bermúdez and Olga García (Marta Corredera).
CD Transportes Alcaine Prainsa Zaragoza: Jamila Martins (Diana Millán), Mariela Coronel, Sandra Bernal, Noelia Tudela, Claudia Neto, Bárbara Latorre, María León, Nelly Maestro (Clara Martín), Sara Sanau (Marta Cardona), Lara Mata (Lucía Fuertes) and Nuria Mallada.
Goals: Vicky Losada, 1-0; Sonia Bermúdez, 2-0; Alexia, 3-0 and Vicky Losada, 4-0.
Referee: Beatriz Gil
The Barça women's team has rounded off a spectacular season by winning the Queen's Cup at the Ciudad Deportiva de Las Rozas (Madrid). The players managed by Xavi Llorens beat Prainsa Zaragoza 4-0 in a great match with an outstanding goal from Alexia to lift their third trophy of the season – League, Copa Catalunya and Queen's Cup.
Barça dominates from the start
The match started with pressure from both sides but Barça soon created the first danger when Melanie Serrano pounced on a cross from the right. Zaragoza keeper Jamila Martins did well to save.
A Barça Festival
The Zaragoza players began to tire and in the 25th minute midfielder Vicky Losada took advantage of a great through ball from Míriam Diéguez to open Barça's account after the Zaragoza keeper could only block the first effort. The goal opened the floodgates as the Zaragoza resistance crumbles.
Sonia Bermúdez and Olga García combined to score the second but the icing on the cake was provided by Alexia, who beat two opponents and left keeper Jamila Martins helpless on the ground to score the third and best goal of the match. At half time Barça led 3-0.
Pace slackens in second half
The second half followed a similar pattern to the first half. Prainsa Zaragoza tried to step up the pressure but Barça remained vigilant despite taking their foot off the accelerator. Both teams suffered under the intense Madrid heat.
Zaragoza had a chance to get one back but Barça keeper Laura Ràfols turned a María León free kick for a corner. In the 22nd minute, second half substitute Kenty Robles ran on to a great pass from Sonia Bermúdez but failed to convert the chance.
Victory and Queen's Cup winners
In the final quarter of an hour Barça scored a fourth. A free kick taken by Vicky Losada was missed by everyone and went straight into the net. An excellent game and a great victory which was watched from the Directors' Box by Board members Jordi Mestre and Susana Monje.