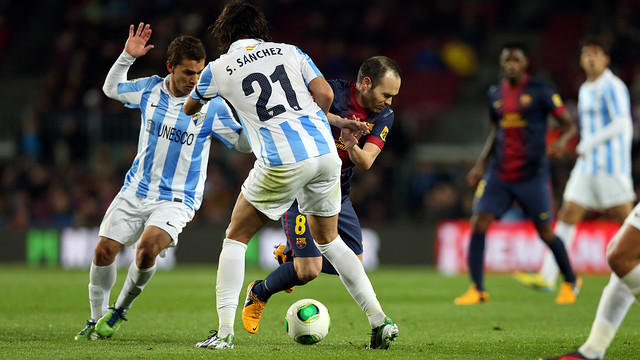 19.00, GolT and Canal+ Liga: Barça's league campaign comes to an end against Malaga, with a tribute to Abidal to follow

Barça are appearing at the Camp Nou for the last time this season in tonight's final league fixture against Malaga. As ever on these occasions, there will be moments of joy and sadness. Barça may have already won the title, but there are still two major attractions. The first is the chance for the team to get 100 points for the first time, which would equal the Liga record. And the second is the chance to bid farewell to Éric Abidal in what will be his very last game for FC Barcelona.
This promises to be a very special night indeed for the Frenchman, who has won a place in every Barça heart with his amazing strength of character, and who gave such an emotion-charged press conference on Thursday, at which he announced his departure from the club. There are a few surprises in store for Abidal after the game, and he may also get to play some part in the match itself, while two players that are out for sure are Leo Messi and Carles Puyol.
Other challenges
As well as the historic one hundred points, there are other targets in sight for Barça. The Blaugrana are just three goals away from setting a new club record for goals in a single Liga season (114), and are one win short of an all-time record in that department too (32). Three more points would also set a new club record for home wins. So there are plenty of reasons to go out and beat Malaga following a lively week of emotional press conferences and the announcement of the imminent arrival at the club of Brazilian superstar Neymar.
Pellegrini also leaving
The blue-and-whites are already mathematically assured a European place next season. One point more would guarantee that they finish sixth, ahead of Betis and which would mean entering the Europa League one round later. This will be Manuel Pellegrini's last match in charge of the Andalusian outfit, and the Chilean will be doing so without any of Kameni, Iturra, Demichelis, Duda or Piazón.
Malaga's record away to FC Barcelona is far from encouraging. In 30 visits, they have only managed 2 wins and 1 draw.