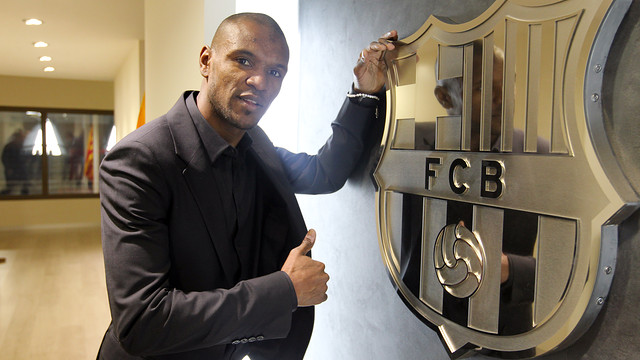 The French defender admitted on the Barça TV programme 'El Marcador' that he was satisfied with his six "spectacular" years at the Club, though he would have liked to stay longer
Éric Abidal is leaving the Club: "with both sadness and happiness". On Saturday night on the Barça TV programme 'El Marcador', Abidal admitted: "I'm sad because I wanted to carry on, but happy because I have had six spectacular years at a Club who have always supported me and with fans who've shown their affection". Echoing his comments from Thursday's press conference, Abidal again thanked the players, coaching staff and especially the medical staff and physios at the Club for the support they've given him.
TRIBUTE TO ABIDAL
Disset minuts sense errades
Just as he had done on his re-appearance against Mallotrca, Abidal completed 17 minutes on Saturday night against Malaga and the Frenchman was pleased with his performance: "I played well and didn't lose a single ball. That's the result of a lot of training and a lot of hard work". Abidal made 16 passes – all successful and much to the Camp Nou crowd's pleasure he even managed to take part in a couple of attacks.
Despite the strong emotions, there were no tears from Abidal during the tribute paid to him after the game and he explained: "they are difficult moments – I didn't want it to end, but now it's done and over".
Looking to the future, Abidal explained that he and his wife had decided to return to Barcelona once his career is ended, whislt admitting his family was going to find it hard to leave the city – particularly his children.