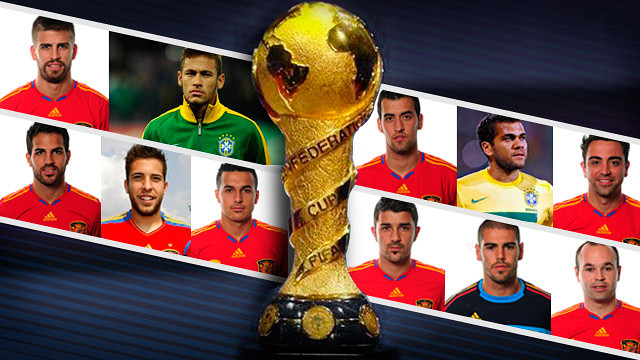 Nine Barça players are in the Spain squad and another two are representing host nation Brazil
Dani Alves is the only Barcelona player who has won the competition before and for seven of them this is a chance to complete a 'full house' of international titles
MATCH TIMES
15/6 BRAZIL v Japan (02.00)
16/6 SPAIN v Uruguay (00.00)
19/6 BRAZIL v Mexico (02.00)
20/6 SPAIN v Tahiti (02.00)
22/6 BRAZIL v Italy (02.00)
23/6 SPAIN v Nigeria (02.00)
The Confederations Cup gets under way on Saturday and goes on until June 30 in Brazil, the country that will be hosting next year's World Cup. Barça have as many as eleven players involved, nine with Spain and two more with Brazil.
The eight teams will be divided into two groups of four. The top two in each progress to the semi-finals.
Alves going for double
Dani Alves and Neymar's Brazil open the completion against Japan in Brasilia. The side managed by Luis Filipe Scolari also have to play Mexico and Italy. Brazil are looking to defend the title they won in South Africa in 2009, an occasion when Alves became the only currently active Barça player to have lifted the trophy.
Spain's challenge
The Confederations Cup is the only major title that has so far eluded Spain, a country that has won the European Championship three times and the World Cup once. The current squad includes Valdés, Piqué, Busquets, Xavi, Iniesta, Villa and Pedro, who with Barça and Spain have won every major international or club honour going apart from this one. The other Barça players in Brazil, Jordi Alba and Cesc Fàbregas, have other medals missing from their collection too.
Spain start their campaign in what in Europe will be the early hours of Monday morning (00.00) against Uruguay in Recife. After that, they'll complete the group against Oceanian minnows Tahiti and African champions Nigeria.