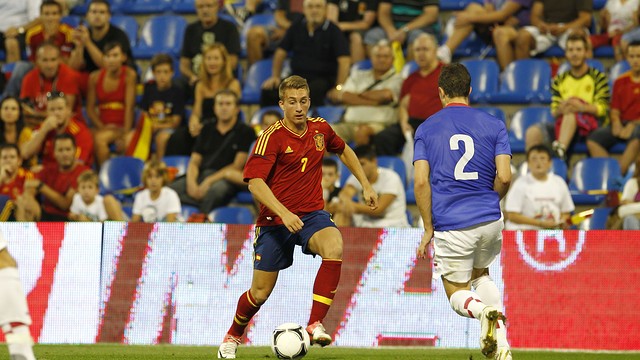 The FC Barcelona forward played the entire 90 minutes against Ghana
His Barça B team-mates, Edgar Ié and Agostinho Cá, featured for Portugal against South Korea
The U20 Spain team were made to sweat for the three points against the U20 Ghana team this evening. The team managed by Julen Lopetegui were victorious by a narrow 1-0 scoreline thanks to a strike from Jesé on 13 minutes, which means the Iberians have secured a round of 16 berth in the U20 World Cup. Spain defeated the United States (1-4) in their debut match and they'll close out the group stage against France in a match that will decide which team finishes top of the group.
Deulofeu starts
Gerard Deulofeu was named to the starting team for the second time in as many games, and he played the entire match. The Catalan didn't score but he had plenty of chances to do so. The first 20 minutes of the match were dominated by Spain, but little by little Ghana wrestled control away from Spain, and they nearly equalised on multiple occasions thanks to their physical style of play and tenacity. But Spain managed to hold off the Africans to claim the three points.
Ié and Cá feature in Portugal's draw with South Korea
Two more Barça players also featured in U20 matches this Monday. Edgar Ié and Agostinho Cá featured for Portugal against South Korea. The Portuguese took the lead but South Korea fought back on the 76th minute. The result leaves both teams tied for the top spot of their group.