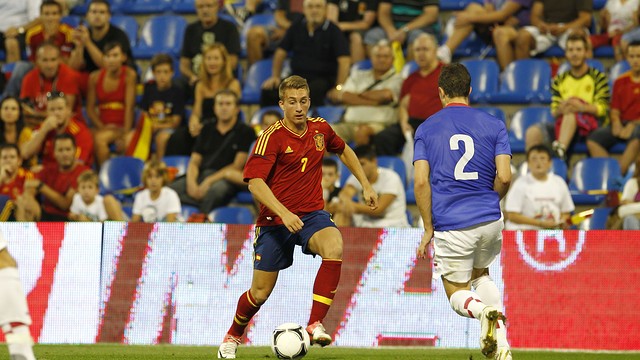 Deulofeu for Spain, Ca and Ié for Portugal and Sanabria for Paraguay are all in Turkey for the U20 World Cup that gets under way on Friday June 21
Gerard Deulofeu is leading the Spanish team, one of the hottest tips for the title, and whose campaign begins on Friday against the USA
On the same day, Ca and Ié debut for Portugal against Nigeria
Youth striker Sanabria and his Paraguayan compatriots start on Saturday against Mali
Everything is set in Turkey for the 24-team FIFA U20 World Cup to get under way on Friday. Barça are well represented, with Gerard Deulofeu in the Spain side, Agostinho Ca and Edgar Ié representing Portugal and Arnaldo Sanabria in action for Paraguay.
The top two teams from each of the six groups of four will be joined by the four best third-placed teams in the knockout stages.
Spain and Deulofeu favourites
The Spain side led by Gerard Deulofeu is going into the competition as European champions and one of the prime favourites to take over from 2011 champions Brazil, who haven't qualified this time. But they will first need to get out of the 'Group of Death' which starts on Friday (20.00) against the United States. They then meet Ghana (June 24 at 20.00), the 2009 champions, and after that, another of the most fancied teams in the tournament, France, whose side includes Pogba and Kondogbia (June 27 at 20.00).
Portugal dark horses
The Portuguese side includes Agostinho Ca and Edgar Ié and is one of the top outside bets for the title. They are in Group B along with Nigeria, a side that traditionally performs well at this level (June 21 at 20.00). They then continue against South Korea, the Asian champions (June 24 20.00) and finish the group against outsiders Cuba (June 27 at 16.00).
Sanabria with South American champions
Barça striker Arnaldo Sanabria is two years younger than most players in the competition, and is there with a Paraguya side buoyed by its recent success in the South American championship, where they finished second. They are in Group D along with Mali (June 22, 20.00), the strongly fancied Mexico (June 25, 17.00) and Greece (June 28 at 17.00).