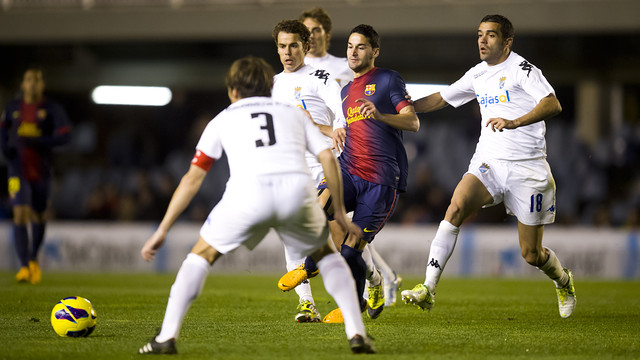 Missing a number of key players, Barça B lost their final game of the season in Jerez.
Goals from Javi Forján and Franco Amoroso gave Jerez the win.
La fitxa del partit
Xerez, 2
Barça B, 1

Xerez CD: Toni, Mendoza, Galán, Porcar (Franco Amoroso 71'), José Vega, Rafa García, Álvaro Rey, David Prieto, Marquitos (Alfonso 64'), Javi Forján (Maldonado 62') i Marcelo
Barça B: Bañuz, Balliu, Sergi Gómez, Ilie, Lombán, Espinosa, Luis Alberto, Sergi Roberto, Gus Ledes, Joan Román i Dongou
Goals: Javi Forján (Min. 7), Dongou (Min .31) i Franco Amoroso (Min. 79)
Despite competing throughout the game, Eusebio Sacristan's youngsters lost their final league game 2-1 in Jerez.
Barça were without a number of key players off on international duty and found it hard against a wel organised Jerez who took an early lead through Javi Forján. Dongou equalised after half an hour, but Franco Amoroso's 79th minute strike proved to be the winner, despite a strong finish from the visitors.
All square at the break
The hosts took Barça by surprise with their first attack of the game, Marquitos crossing for debutant Javi Forlan to head past Bañuz. Although the visitors dominated possession, they were unable to create real chances and Lomban's header over on 15 minutes was their only real opportunity – with Jerez immediately answering with an Alvaro Rey shot that hit the post with Bañuz beaten.
Dongou drew Barça level on the half hour though, when he finished off an excellent counter from Joan Roman who set up the Cameroon youngster to fire left footed past the Jerez keeper, who was again called into action five minutes from the break when he spectacularly saved a Luis Alberto shot from the edge of the box.
Second half winner
Eusebio Sacristán's team looked more dangerous after the break with Espinosa firing just wide on 46 minutes and Luis Alberto again testing the home keeper. Then, on 56 minutes Luis Alberto and Sergi Roberto did brilliantly to set up Dongou, who failed to finish the move off.
Jerez came back into the game and began to create their own openings though and on 79 minutes Franco Amoroso rounded off a break to put them ahead again. Barça pushed for an equaliser in the final minutes.