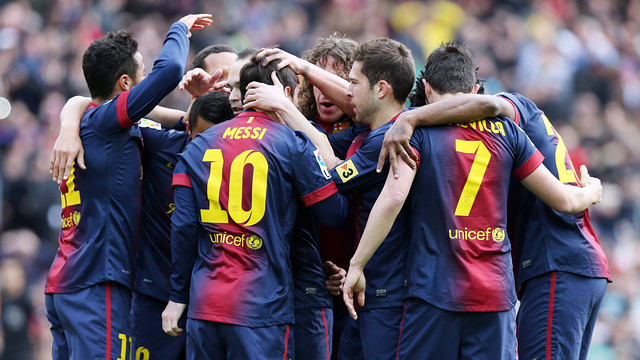 Team win the award with 74 points
No other team has won the award as often as Barça who have now won 5 times

Final Classification
FC Barcelona 74 points
Valladolid 88
Reial Societat 102
Reial Madrid 105
Atlètic de Madrid 106
Màlaga 107
Granada 115
Mallorca 120
Deportivo 121
Celta 124
Llevant 134
Athletic Club 135
Sevilla 138
Betis 144
Getafe 149
València 154
Osasuna 154
Rayo 156
Saragossa 163
Espanyol 186
As well as taking the Spanish League title with a record equalling 100 points, Barça have also won the league's Fair Play Award for the third straight season FC Barcelona. With just 74 points, Barça received the fewest penalty points in the league – given out for cards and suspensions throughout the season -ahead of Valladolid (88 points) and Real Sociedad (102).
A quick glance at the fouls committed last season by their top players is a good demonstration of their Fair Play, with Piqué (14 fouls all season), Montoya (14), Messi (12), Puyol (10) or Xavi (4) a perfect reflection of the team's attitude
El cinquè guardó
This is the fift time the team have won the award and the third season on the run that they have topped the Fair Play table. They first took the Award in the 2005 /06 season and again in 2008/09, before starting their three season run in 2010/11. No other team have won the Award as often since its inauguration in 1998.
Barça B, lead second division table
Barça B are also setting an example of Fair Play and lead the Award table in the second division, with one game still to play in the regular season. Eusebio Sacristán's youngsters lead with 98 points, well ahead of second place Girona (110 points) and Lugo (118).