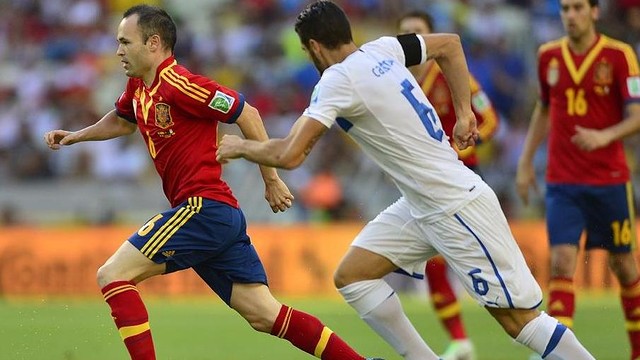 Valdés, Jordi Alba, Piqué, Busquets, Iniesta, Xavi, Cesc, Pedro and Villa, for Spain, plus Neymar and Alves, for Brazil, could all feature in Sunday's final
Eleven Barça players are in the Confederations Cup Final 2013 at the Maracaná on Sunday. Spain's Valdés, Jordi Alba, Piqué, Busquets, Iniesta, Xavi, Cesc, Pedro and Villa, will be up against their present and future team-mates, Dani Alves and Neymar, playing for host nation Brazil.
Theoretically, there could be a complete Barcelona first eleven on the field, playing 3-4-3 with one goalkeeper (Valdés), three defenders (Alves, Piqué and Jordi Alba), four midfielders (Sergio, Xavi, Iniesta and Cesc) and three strikers (Villa, Pedro and Neymar).
Goalkeeper Valdés played the full 90 minutes against Nigeria, and may get another chance in the final. In defence, Jordi Alba has scored two goals in his 300 minutes, while Piqué (300 minutes) and Dani Alves (360 minutes) are also first choice defenders for their national sides. In midfield, Sergio Busquets (300 minutes), Xavi (287 minutes) and Iniesta (314 minutes) are all essential parts of Del Bosque's plans. Cesc (140 minutes) missed the Italy game for fitness reasons, but should be okay for the final, if selected. Up front, there are three FCB players to choose from. Spain have Pedro (235 minutes), who has scored one goal, and Villa (105 minutes), who got a hat trick against Tahiti. And there's also the club's newest signing, Neymar (322 minutes), the leader of the Brazilian team and who has scored three times in the competition so far.
Eight precedents to dream final
The Confederations Cup Final promises to be a fascinating duel between the current World Cup holders, Spain, and the country with the most titles to its name, Brazil, who have five. It is 14 years since the two sides met, in a friendly in Vigo in 1999, with Barça's Guardiola and Luis Enrique among the players that drew 0-0 with a Rivaldo inspired Brazil. It's the first official meeting between the sides since the 1986 World Cup, when Brazil beat Spain 1-0 in a group match in Guadalajara, the solitary goal scored by the late and legendary Socrates.
The teams have met eight times in total, five times in official matches and three times in friendlies. Brazil have four wins, Spain have two, and there have been two draws.