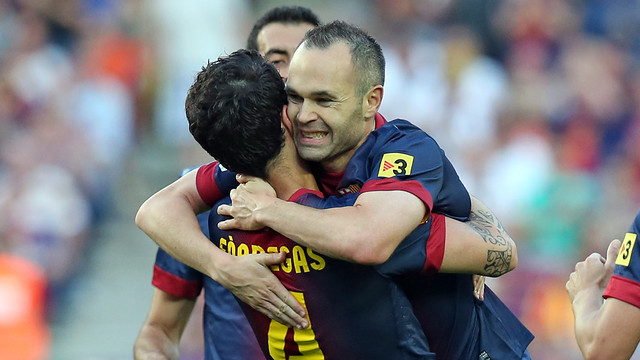 Barça finished the league campaign with a record 100 points and a record 15 point lead over the second placed team
Leagie leaders from the very first game, the team also beat their league goal scoring record with 115

At the end of an unforgettable 2012/13 league campaign, we take a look atteh records the team have set this season.
100 points in the league: The team beat their previous best of 99 points from the 2009/10 season to equal the competition's record set by Real Madrid last season.
---
Biggest ever lead over second place team: Barça have never before won a league title by such a massive margin – their previous best in a three points for a win league was when they finished 13 points ahead of Madrid and Mallorca in the 1998/99 season. In leagues with two points for a win, the Club finished 10 points ahead in the 1984/85 and 1990/91 campaigns.
---
Leaders all season long: This year was just the second in their history that Barça had led the table from start to finish – something they previously achieved in the 1984/5 season.
---
Record number of goals: With 115 goals in 38 games, Barça beat the Club record set last season by a single goal and fell just six short of the competition's all time record set by Real Madrid last season. Tito Vilanova's side scored in every league game of the season.
---
32 wins: The victory over Malaga was Barça's 32nd of the competition this season and equalled the record set last year by Real Madrid.
---
Most wins at home: With 18 wins and just one draw at the Camp Nou, the team equalled their 2009/10 record. 55 of their 100 points came at home.
---
Best ever first half to a season: Barça achieved the best ever first half to a season, taking 55 from a possible 57 points in their first 19 games, leaving them 11 points ahead of Atletico Madrid and 18 in front of Real Madrid at the half way mark.