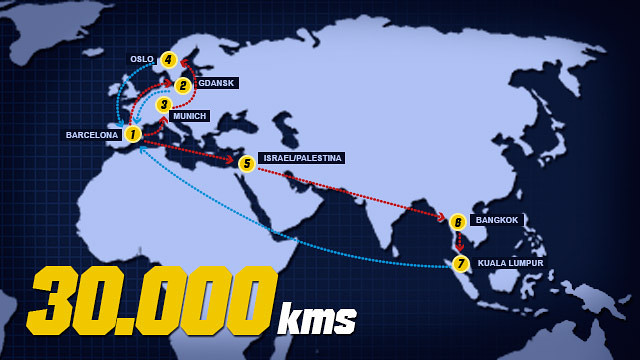 Barça will play in three different European companies, two in Asia and also visit Israel and Palestine.
Once again Barça will be globe trotting in their pre-season, with the team set to visit three different European companies, two in Asia, as well as Israel and Palestine.
The European leg begins on July 20th, with the team travelling 1,876 kilometres to open their pre-season against Lechia Gdansk in Poland and then returning home after the game.
The second trip is to Munich (1,056 kilometres) on July 24th, followed by a 1,320 kilometre to Oslo on July 27th , before returning to Barcelona (2,139 kilometres).
Half way around the world
The longest trip will then follow, with a flight to Palestine and Israel – 3.119 kilometres -en route to the Asia Tour. The middle East trip will include a footballing clinic on August 3rd and 4th before a 6.901 kilometre flight to Bangkok for a match against Thailand XI on 7th.
The team's last game on tour will be in Kuala Lumpur (1,205 kilometres from Bangkok), on 10th, before the longest flight of all – the return from Asia -10,589 kilometres.