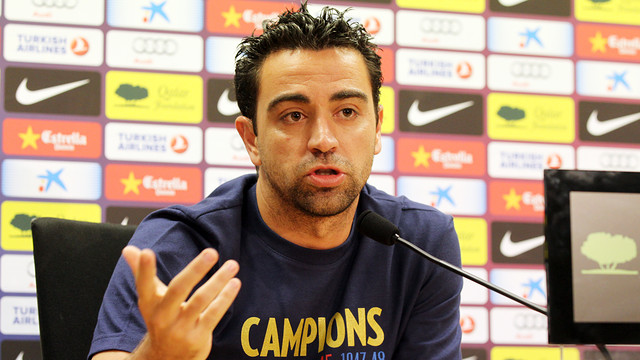 The Catalan midfielder says that he's "proud and pleased" with his seven La Liga titles, but he adds: "I didn't win the titles, they were won by Barça"
"I'm in favour of making few changes. It seems as though we have to change everything, but that's not the case," explains Xavi
Xavi Hernández spoke to the press this afternoon at the Ciutat Esportiva ahead of the team's first training session of the week. Barça's second captain talked about the atmosphere surrounding the Club in the days following the team's successful bid to reclaim the league title and his personal record of seven La Liga titles. "I'm proud and pleased that I've won seven Ligas. For me they are all important. This generation of players makes me very proud and it's not as if I won them all, the league titles; Barça won them," said the Catalan player, who declared that "this generation can win more titles."
"I couldn't have imagined more titles"
"As a Culé, I have a tendency to be more pessimistic. I could not have imagined winning so many titles. Our philosophy has yielded its rewards and I hope it continues to do so," said Xavi. He added: "we've set the bar very high and now it seems as though what we do falls short [of that mark]. We are competitive, we have to evaluate what we've done. It's not easy to win a title every season.
"We weren't at our best in the crucial moments of the season. In decisive moments, like in the semi-finals of the Cup, we didn't know how to kill off the tie against Real Madrid," mused the Blaugrana captain.
Few changes
Xavi went on to say that he doesn't look favourably on the idea of gutting the team next season. "I'm in favour of making few changes. It seems as though we're in a terrible situation and that we must change the whole team. But we're going through a good moment," said the midfielder, who added that "I hope my level of play remains high in the next three years I have on my contract."
Good atmosphere
"We were all enjoying the festive atmosphere of the champions parade. We're proud that we won La Liga and that we got to share that with the fans … that's what we'll remember. Our intention is to show our fans a good time," concluded the Barça captain.
Xavi's profile