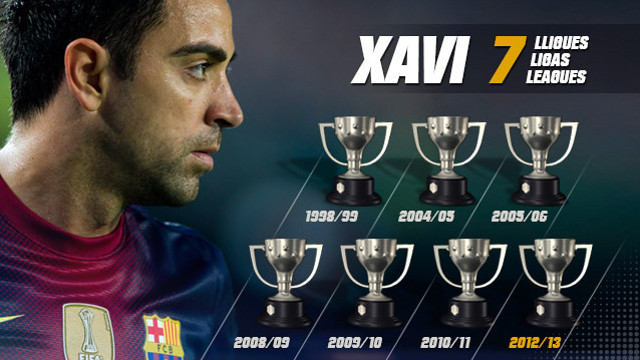 The Barça midfielder has picked up his seventh league title with the Club – the most of any player still playing – and together with ex-Madrid man Paco Gento, holds the record in Spain for most titles -24
Xavi has won 21 titles with Barça and three more with Spain

Seven league titles. The first in 1999. The latest in 2013. Xavi Hernández has now won more Spanish league winners medals than any other player still in action. After making his debut in 1998, Xavi hasn't stopped winning titles with both Bar´ça and the Spanish national side and this season's league title means he has 24 different winners medals – equalling Paco Gento's Spanish record.
The ex- Madrid player won 23 titles with his club side and one with Spain in a career that lasted 18 years from 1953 to 1971. Xavi has a contract at the Club until 2016 and there's no reason why he shouldn't overtake Gento – whose record has stood for 40 years – and set what would surely be a mark that would be very tough to beat.
Leading title winner for Barça
Xavi is the first Barça player to win seven league titles(1999, 2005, 2006, 2009, 2010, 2011, 2013), having previously been level on six with Antoni Ramallets (1948, 1949, 1952, 1953, 1959 and 1960) and Josep Guardiola (1991, 1992, 1993, 1994, 1998, 1999).
Of the current squad, Carles Puyol has won six league titles (2005, 2006, 2009, 2010, 2011, 2013), as have Víctor Valdés, Andrés Iniesta and Leo Messi, who at just 25 is surely set to break many more records if Barça continue to dominate in Spain and Europe.