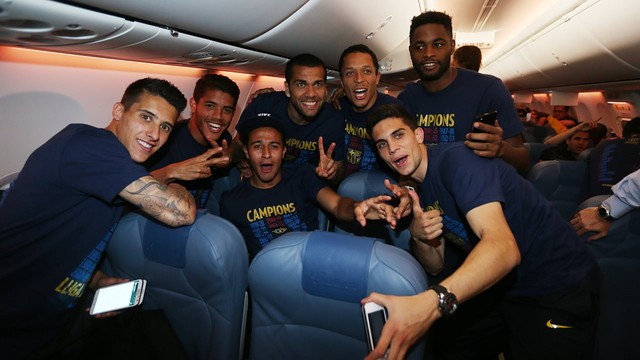 The players celebrated the league title after the match at the Calderón was over
On the flight back to Barcelona, the players continued to celebrate with each other and the Barça fans that had made the trip to Madrid to watch the game
When the referee blew the final whistle at the Vicente Calderón, Busquets, Cesc, Piqué, Alba and Bartra made their way to the section of the stands that hosted the FC Barcelona fans. The five players started to jump and yell in excitement as they were finally able to celebrate the league title after a long and difficult season. The celebration carried on in the dressing room, where the players popped open bottles of cava and sang the song reserved for champions: 'Campeones, campeones.' It's FC Barcelona's 22nd league title, and it needs to be celebrated.
Celebrations continue on the way home
The first team players continued their celebration on the plane ride home. Donning their commemorative champions shirts, the players sang and joked around on the flight from Barajas to El Prat airport. Gerard Piqué sprayed the Barça fans on the plane with cava while Thiago and Busquets turned the bottles on press.
This Monday the celebrations will continue on the streets of Barcelona. The league champions bus tour is set to start on the Paseo de Colón, at 18.30