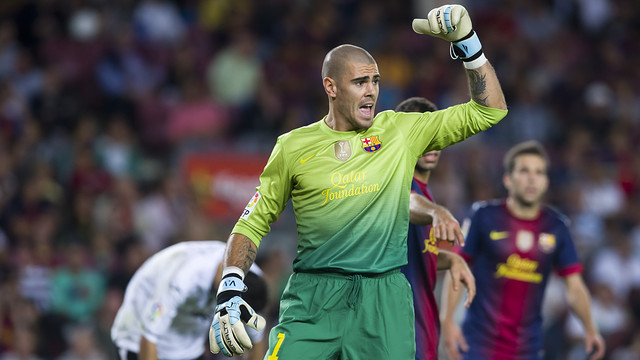 The FC Barcelona keeper reached his 500th official match in the Blaugrana strip, a feat only Xavi, Puyol and Migueli have achieved
The Catalan has won 20 titles and 5 Zamora trophies during his 11 seasons with FC Barcelona
Les seves xifres
500 matches
– 359 in La Liga
– 104 in the Champions League
– 12 in the Copa del Rey
– 5 in the UEFA Cup
– 10 in the Spanish Super Cup
– 3 in the European Super Cup
– 6 in the Club World Cup
20 titles
– 6 Ligas
– 3 Champions League
– 2 Copas del Rey
– 2 European Super Cups
– 5 Spanish Super Cups
– 2 Club World Cups
Víctor Valdés took his place among a select group of FC Barcelona players this Sunday as he completed his 500th match in the Blaugrana strip. Up until today, only Xavi, Puyol and Migueli had accomplished this feat. The current Barça keeper has featured in 359 La Liga games, 104 Champions League matches, 12 Copa del Rey games, 5 UEFA Cup matches, 10 Spanish Super Cup finals, 3 European Super Cup games and 6 Club World Cup matches. The keeper has won a total of 20 titles in his 500-match odyssey with Barça, among them 6 Liga titles and 3 Champions Leagues.
Since his first team debut, in September of 2002, Valdés has surpassed the most emblematic keepers in FC Barcelona history, like Zubizarreta – who played a total of 410 matches – and Ramallets, who featured in 384 matches in the Blaugrana strip.
Eleven record-setting seasons
FC Barcelona's current goalkeeper has made it his business to break records throughout his eleven seasons defending Barça's goal. Valdés holds Barça's unbeaten record, which stands at 896 minutes without conceding a goal, and he's won five Zamora trophies (2004/05, 2008/09, 2009/10, 2010/11 and 2011/12).
Valdés has conceded 415 goals in his 500 matches for Barça (average of 0.83 goals per match). His best season was two years ago, in 2010/11, when he only allowed 0.57 goals per match.