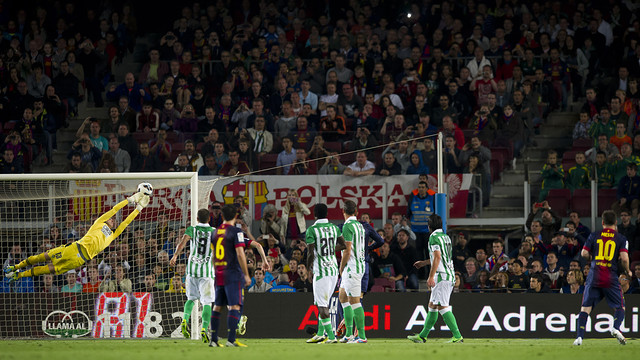 Two goals from Messi set up the fightback to leave Barça just two points off the title
The league title is within Barça's grasp after Tito Vilanova's side came back from1-2 down at the break to beat Betis 4-2 and leave the championship just two points away. This was a hard won win, with Barça going 0-1 down after just two minutes and despite equalising, they again conceded before the break to go in 1-2 at half time. Villa and the superb Messi, who had started on the bench – turned the result round to beat a brave Betis and set Barça on course for yet another title.
The win means Barça are 11 points ahead of second place Real Madrid, with just four games remaining, Mourinho's side play against Malaga on Wednesday in a game brought forward because of their involvement in the Spanish Cup final and if they fail to win, Barça will be champions. Should Madrid win, Barça could take the title next weekend at the Vicente Calderon – always assuming Madrid are unable to beat Espanyol at Cornella.
Early setback
It was a bad start for Barça, who conceded after just two minutes when Pabon found himself clear following a mix-up in the Barça defence and shot past Pinto for the opener. Barça didn't let the goal put them off their stride though and before the 10 minutes were up, a lovely piece of work from Iniesta set up Alexis to head home the equaliser.
Barça turn on the style
Now Barça turned on the style and with Xavi pulling the strings and Iniesta linking up brilliantly with Tello, only bad luck for Villa stopped Barça's dominance being converted into goals. Villa could hardly believe it as he missed four great chances in ten minutes, whilst Iniesta and Tello, who hit the bar, also came close to making it 2-1.
In contrast to Barça's bad luck, Betis' Rubén Pérez fired home a brilliant effort to make it 1-2 and send the hosts in 1-2 down at the break – it was time for another fight back!
Villa gets his rewards
Betis manager Pepe Mel brought on Beñat for Jorge Molina at half time, in an attempt to swamp the midfield, but it was to no avail, as Barça continued to dominate and just as Messi was preparing to come off the bench, Villa finally got his reward and headed home an inch perfect Alves centre to make it 2-2.
Messi makes his mark
The goal was Villa's last action, as Messi came on to take his place straight after. The world number one needed just four minutes to make his mark and put Barça ahead, with a fantastic free kick that gave the Betis keeper no chance as it flew through his fingertips. The Camp Nou erupted at the goal and they nearly saw another a few minutes later, when the Argentinean sent another free kick goalwards, only for it to come back off the woodwork.
Messi wasn't to be denied though and after another great piece of skill from Iniesta, he was set up by Alexis for Barça's fourth – having needed just over a quarter of an hour to turn the game around, and very nearly got his hat trick before the game ended to chants of "Champions! Champions!".