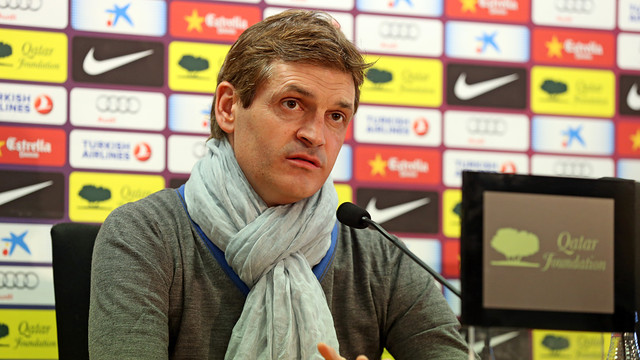 The Barça coach believes the game against Betis "is a very important match because we know that a win would leave us in a good position"
Vilanova revealed that Sergio Busquets and Leo Messi "have trained well" but that their fitness would be assessed on Sunday
"Fàbregas is a top class player. He's a great asset"
Tito Vilanova spoke to reporters in the Camp Nou on Saturday ahead of the match against Betis. "It is a very important match because we know that a win would leave us in a good position to win the league. "The sooner we get three points, the better. We want to give the fans a boost. Why wait until the last match if we can win the league before then?"
As for the fitness levels of Sergio Busquets and Leo Messi, Vilanova explained that they had felt fine in training: "They have trained well but we'll have a final check on Sunday. In training the stresses are more controlled and it's not the same as a match". However, he pointed out that Puyol and Mascherano are still recovering: "We've had fewer controllable injuries than last season but more of the ones that you can't do anything about, in the joints".
Betis a tough opponent
The current Betis team, managed by Pepe Mel, is hard to beat, home or away. They have one of the best goal scoring records away from home and earlier in the season put up a good fight before losing 1-2 to Barça in the Benito
Villamarín. "It's a team that has always caused us problems, including when they were in the Second Division, in the Cup. We had a hard time earlier in the season. Players like Castro and Molina are very good in space and have created problems for us".
"Fàbregas is a top class player"
Tito Vilanova also stressed the importance of Cesc Fàbregas to the team. "He's a top class player. Last season he was the team's second highest scorer and he's going the same way this season. In the last few matches he's given us a win with a goal against Levante and against Mallorca he scored two. He's a big asset to the team".