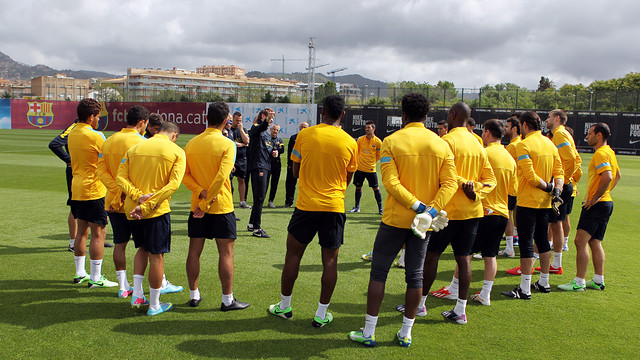 All of the first team will be travelling to the Vicente Calderón, where Barça could be celebrating the league title
Valdés, who is still being troubled by plantar fasciitis, and Abidal, with a minor injury to the soleus in his left leg, are both out of the game with Atlético Madrid

Happy birthday Iniesta
The session started today with the players gathering around Andrés Iniesta to congratulate the midfielder on his 29th birthday.
All of the players, including the injured ones, will be flying to Madrid on Sunday, where Barça play Atlético at 19.00. Manager Tito Vilanova has decided to that everybody should be there for what could potentially be a night of celebrations at the Vicente Calderón.
Valdés and Abidal out
Goalkeeper Víctor Valdés will be watching from the side-lines. Despite working hard to recover in time from plantar fasciitis in his left foot, the trouble has not gone away, and to make matters worse, he has also picked up a thigh injury. He therefore misses the game with Atlético Madrid and is in doubt for next week as well. Barça B keeper Masip has been named in the squad in his place.
Meanwhile, Abidal has a soleus injury in his left leg, and is out of this match and possibly future games too.
Mascherano is well on the road to recovery and was able to train normally on Saturday morning in a session that also featured youth goalkeeper Joseph Fabrice Ondoa.