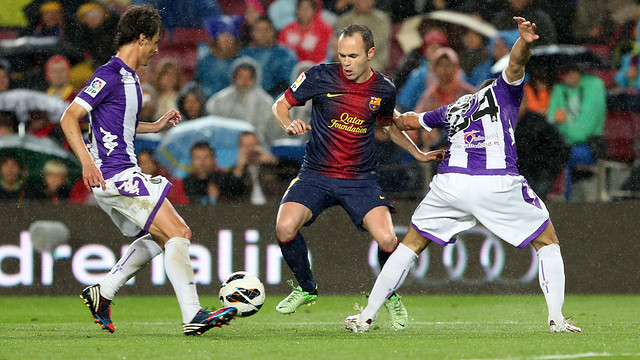 Barça is just one win away from equalling their best ever home record in a 20-team First Division
After the win against Valladolid, Barça have accumulated 17 victories and 1 draw in 18 league games in the Camp Nou. If they beat Malaga in the last game, they will have equalled the Club's record of points in a 20-team First Division set in the 2009/10 season. Here are some more of the stats from Sunday's game:
– Barça has 94 points, 5 away from their best ever total and 6 from the La Liga record. Two more games to go.
– The team has scored 109 goals. Their best ever total (114) was achieved last season.
– The last 2-1 win against Valladolid in the Camp Nou was in the 1991/92 season.
– Andrés Iniesta made his 300th league appearance. He's made 453 appearances in all competitions.
– Pedro scored his sixth goal of the season, overtaking his haul from last season.
– The winger reached his 100th league victory. He's done this in just 130 matches.
– Víctor Valdés has conceded 300 goals in 360 matches in the First Division.
– Jordi Alba recovered possession more often than any other player on the pitch (13).
– Xavi made the most completed passes, 116 out of 135.
– There were only 9 fouls: 3 by Barça and 6 by Valladolid.