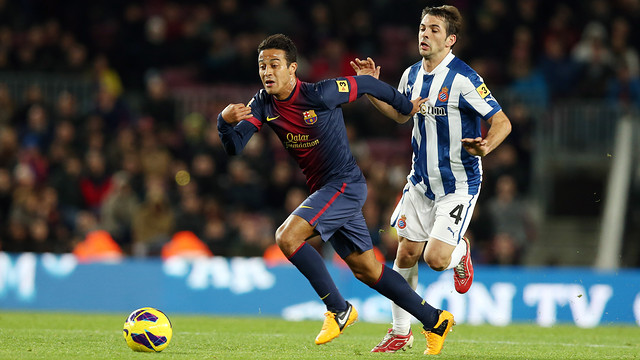 The Barça midfielder would make his one hundredth appearance for FC Barcelona if he plays in Sunday's derby with Espanyol (20.00)
The Spanish-Brazilian made his first team debut on May 17, 2009 in a league match with Mallorca and has gone on to score 11 goals for FC Barcelona
The magic, improvisation and quality of Thiago Álcantara have made the midfielder one of the most promising youngsters in the current Barça squad. He is still only 22, but on Sunday could make it to 100 appearances in the famous jersey.
To make the game even more special, FCB meet Espanyol at Cornellà-El Prat with the challenge of completing the club's first ever 100-point Liga season still on the horizon.
Debut against Mallorca
On May 17, 2009, Thiago came onto the pitch at the Iberostar Stadium in Mallorca to show the first team what he is fully capable of for the first time in his career. That was the only game he played that season, while in 2009/10 he played on one league match and another in the Copa del Rey, where he also scored his first goal. Since then, it has become normal to see him getting time on the pitch in Barça matches.
Convincing displays
In the 2010/11 season, even though he was still officially playing for the B team, Josep Guardiola and Tito Vilanova starting showing more confidence in the youngster, giving him 12 games in the league, three in the cup, one in the Champions League and one in the Spanish Supercup. In a total of 17 matches, he scored three times. In the summer of 2011 he became a full-time member of the first team squad, and his appearances continued to rise. He played 45 official matches in the league, Spanish Supercup, Champions League and the Clubs World Cup, and added four more goals to his account.
This year, he has continued to improve and has taken his career total up to 99 official matches, which he could take into three figures if he appears this weekend at Cornellà-El Prat.
Curiously, it was earlier this season against the same side that Thiago made his 50th league appearance for Barcelona.