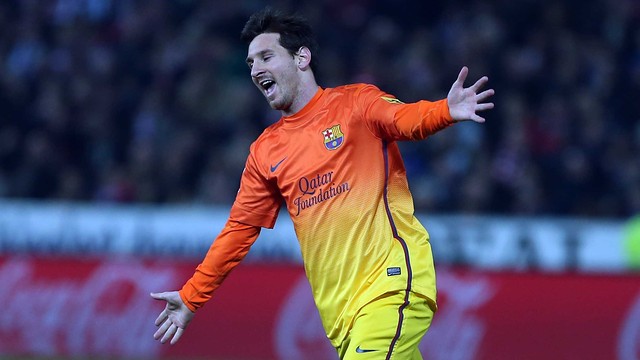 Barça have battled back against Osasuna, Sevilla, Atlético Madrid, Granada, Sevilla (at the Camp Nou), and Betis
FC Barcelona's season has been marked a many come from behind victories in La Liga. Here's an overview
The most spectacular, at the Pizjuán
The first fightback of the season was at the beginning of the competition. In the second week of La Liga, against Osasuna, Barça battled back from a one-goal deficit in the 74th minute of the match thanks to two goals from Leo Messi. Three weeks later, at the Sanchez Pizjuán, the situation was even more critical: the team was losing 2-0 by the 47th minute and 2-1 by the 88th. Two goals from Cesc and another from Villa in stoppage time gave three vital points to the Blaugrana (2-3).
The third comeback of the season, the first one at the Camp Nou, came three months after the match against Sevilla. The game was against Atlético Madrid, and Falcao gave the visitors the lead before Barça fired for four goals (4-1).
Three on the road and three at home
The most recent fightback away from home was against Granada. Two goals from Messi in the second half were enough to best Ighalo's opener (1-2). One week later, Barça managed to mount a comeback against Sevilla, this time at home. Villa and Messi scored to overturn Botía's opener (2-1).
The most recent comeback in the league – up until now – happened this Sunday, against Betis. The Andalusians took the lead twice before Villa and Messi (2) secured the victory (4-2).