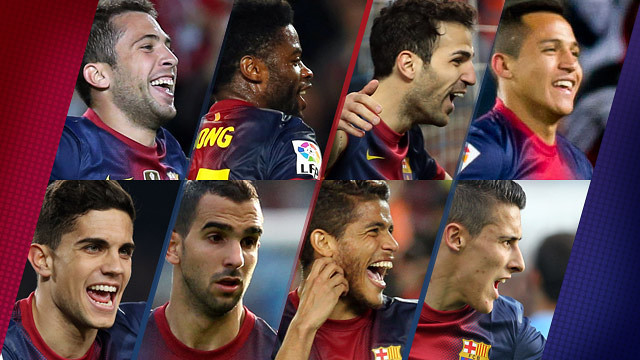 Cesc, Alexis, Song and Jordi Alba, who were brought into the Club over the past two seasons, have won their first La Liga title
Bartra, Montoya, Dos Santos and Tello, all of whom played for Barça B last season, also won their first La Liga crown
Eight FC Barcelona players claimed their first ever La Liga title on Saturday night when Real Madrid failed to defeat Espanyol at Cornellà-El Prat. They are Cesc, Alexis Sánchez, Alex Song, Jordi Alba, Marc Bartra, Martín Montoya, Jonathan Dos Santos and Cristian Tello. Here's a look at each one individually:
Alba and Song, first-timers
Jordi Alba returned to Can Barça last summer and in his first season with the first team he won the league title. The ex-Valencia player took ownership of the left flank in Barça's defence as he's featured for the Blaugrana in 26 league matches. The Cameroonian Alex Song also claimed his first title as a FC Barcelona player in his first year in Catalonia. Song has featured in 19 league matches (17 victories and 2 draws), and in that time he's scored one goal.
Cesc and Alexis, second season with Barça
Cesc added a league title to his personal trophy haul on Saturday when Real Madrid failed to defeat Espanyol. The Catalan, who returned to FC Barcelona in the summer of 2011, had already won the Copa del Rey, the Spanish Super Cup, the European Super Cup and the Club World Cup in the 2011/12 season. Alexis Sánchez also arrived in the summer of 2011 and this season's La Liga crown is his fifth title as a Blaugrana. The Chilean featured in 27 league matches and scored 7 goals for Barça this year.
Four reservists
In addition to the four players mentioned above, the list of newly crowned La Liga winners doubles when we consider the players who were on Barça B's roster last season. They are Bartra (8 matches, 0 goals), Montoya (12 matches, 0 goals), Dos Santos (2 matches, 0 goals) and Tello (20 matches, 7 goals).