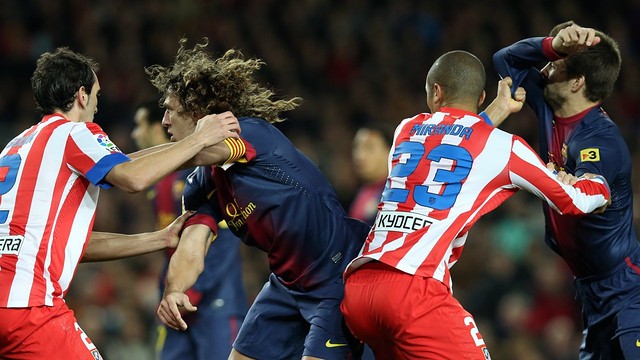 Tito Vilanova and his men will travel to Madrid with the goal of defeating Atlético Madrid and thus securing the league title
PREVIOUS MEETING
Atlético Madrid were second, just six points adrift of Barça, when they visited the Camp Nou for the first match between the two sides of the season. Things started off on the right foot for the Colchoneros as Falcao gave Diego Simeone's side the lead within the first half hour of the match. Barça, however, were not to be outdone, especially at home, as they fired for two goals before the break; Adriano and Busquets were the goal scorers. In the second, Messi netted a brace to extend Barça's lead over Atlético to nine points at the top of the table.
FORM GUIDE
Atlético Madrid are third on 72 points from 35 matches, 16 points behind the Blaugrana. They've won three of their last five La Liga matches, drawn one and lost one. The victories came against Granada (5-0), Sevilla (0-1), and Celta (1-3), while they were held by Deportivo (0-0) and lost to Real Madrid (1-2).
With last weekend's victory over Celta, Atlético Madrid guaranteed itself, at minimum, a top 3 finish in La Liga, a feat the Colchneros haven't achieved since they won the league 16 years ago. This means that Simeone's men will feature in the Champions League next year, a goal, according to the manager, that was "an absolute priority."
In addition to their fantastic league campaign, Atlético are one of the finalists of the Copa del Rey. Simeone's men will take on Real Madrid at the Santiago Bernabéu on May 17, five days after they host Barça at the Vicente Calderón.
ONES TO WATCH
It goes without saying that Atlético Madrid are a team full of talent. Falcao, the team's point man, is simply devastating in front of goal as he's netted 27 times in his 32 league matches. However, he's not Atlético's only danger man, he's flanked by Diego Costa (eight goals), Arda Turan (four goals) and Koke (three goals).
Atlético's forward line is one of the team's biggest assets, but it's certainly not the only one. Thibaut Courtois, Atlético's goalkeeper, is the front runner to win the Zamora – award reserved for the keeper who concedes the least amount of goals in a season – as he's only allowed 26 goals in 35 matches. Barça will have to work hard if they want to win the league title on Sunday, and that means they have to defeat a talented and well-structured Atlético Madrid.