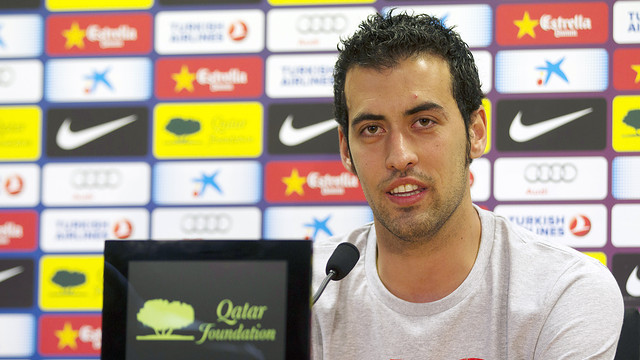 The Barça midfielder knows that the Barça fans "are proud of this team and will give the league title the merit it deserves"
Even though the players know they could become league champions this Wednesday if Real Madrid doesn't win the match against Malaga tonight, they are still focussing on beating Atlético in the Calderon on Sunday to confirm the league title. Speaking to reporters at midday on Wednesday, Sergio Busquets revealed: "We're ready to win the match on Sunday, but if [the league title] comes before then, it'll be just as important. Winning a title is special and the league even more so. It's the tournament of regularity and the most important. What's more, it would be the fourth league title in five years and that would be spectacular".
[[CITA_1]]
Sergio Busquets is sure Barça fans will celebrate the league title in the way it deserves. "All the Barça fans are proud of this team. They know how important this team is and they want us to win the league". And he's in no doubt that a league championship has to be celebrated with a cavalcade through the city and a party at the stadium. "We want to do this and more now that the weeks are so long. It's the best thing to do as we deserve it and so do all the fans".
"It's a complicated injury"
Busquets explained that his groin problem started towards the end of January. "I've improved since I started the treatment. It's a very complicated injury because some days are better than others. You have to take it slowly and hope that you're on the right track. I know it won't go away overnight". However, he ruled out having an operation: "I'm feeling better now".
His future
On the subject of his future with the Barça he insisted: "I see myself here in the future and in the present. I've no intention of moving from here. I see myself with Barça". For Busquets, long-serving players like Xavi, Puyol and Valdés "are an example to me".
In fact, Sergio spoke about rumours that have surfaced recently that Carles Puyol could move on at the end of the season. "He's already denied these rumours. We're all delighted with Puyol. Let's hope he can carry on for many more years. He's looking good to me and he's on the mend. He's got a difficult injury but he's keen to get better as soon as possible. You always have to put a brake on him because he wants to be with the team and get better as soon as possible. Right now I can't imagine Barça without Puyol and Valdés, but the day will come. The years go by and everything moves on".
"The league is the tournament of regularity and the most important. What's more, it would be the fourth league title in five years and that would be spectacular"