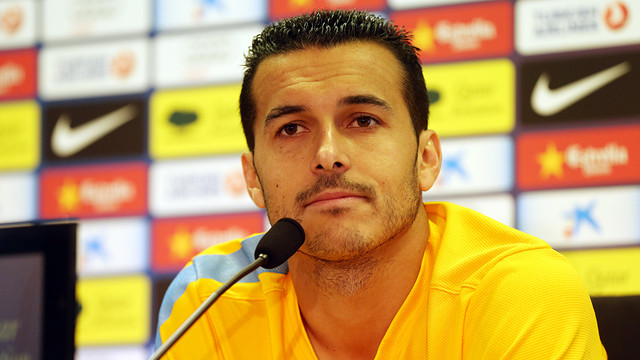 FC Barcelona's forward insisted today that the team have the aim of reaching 100 points very clear in their minds, though they know it won't be easy
Barça have three games to play and nine points at stake, as they aim to round off their title wining season with a 100 point record: "the 100 point record is a motivation for us and an objective we have in mind. We know it will be difficult because the other teams we are playing are still playing for things – but we intend to try", Pedro affirmed in this lunchtime's press conference at the Ciutat Esportiva.
For Pedro: "the league is the most important title in any season, because it reflects your consistency . I'm very pleased about the league title and the work the team have put in . Personally I would have liked to have given a bit more to the team, but I'm happy with the chances I was given".
[[CITA_1]]
Transfer rumours not affecting the players
The Spanish forward explained that the team is determined to finish the season on a high and isn't letting all the transfer rumours affect them: "it's going to be hard again tomorrow and it's normal that there is talk of reinforcements. Barça need goals and attacking contributions and that's why every year the forward line is changed".
As to his own future, Pedro explained: "my intention is to stay here and be a part of this great club. The decision isn't down to us, but I hope to get back and feel good again and bring more to the team next season".
[[CITA_2]]
Neymar – a great player
Asked about Neymar's possible arrival, Pedro replied: "Neymar is a great player. If he comes here it'll be great for the team because it will make us even stronger. It means there would be more competition up front, but that's good to keep on learning. I hope he comes! He'll fit in well here".
I'm happy about the league and for the work the team have done. On a personal level, I would have liked to have given a little more to the team
Looking to the future, Pedro claimed: "Barça need goals and attacking contributions and that's why every year the forward line is changed