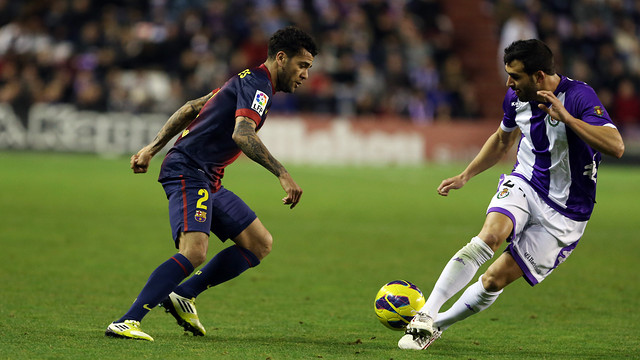 This weekend's games didn't just confirm Barça's top spot, Real and Atletico's results also mean they finish second and third, whilst Valencia are right up there with Real Sociedad chasing for fourth
The battle for the final European places and the struggle to avoid relegation – as well as Barça's race to reach 100 points- will be the focus in La Liga over the last three games
Granada's game in Anoeta on Monday was key to both questions, with Real Sociedad needing a win to hold off the barnstorming Valencia, who won their second game on the run 4-0 by hammering Rayo in Madrid on Sunday and Granada fighting to stay ahead of the other relegation strugglers. It looked as if the Basques would keep their two point lead over Valencia, leading 2-1 thanks to a brace from Agirretxe, with three minutes of injury time already played, but Recio scored a dramatic equaliser with almost the last kick of the game to give Granada a four point cushion with 36 points and leave Real level on 59 with Valencia. Will that goal save Granada and dash Real's Champions League hopes?
Will Celta and Mallorca be the first to go down? Zaragoza (34 points) matched Granada's point with a draw at Levante on Friday night, but Deportivo(32) and Celta(31) both lost 1-0 to Valladolid and Betis, whilst Mallorca(29) went down 2-1 in Bilbao. Osasuna also took a giant step to safety with a 1-0 win over Getafe to take them onto 36 and next weekend's clash with Granada looks like it could decide which of the two spends the most anxious final fortnight of the season. For Mallorca and Celta – who have played one game more than the rest – a win for Zaragoza and a draw in Granada could signal an end to their hopes, whilst Deportivo boss Fernando Vazquez claimed: "it's not worth doing the calculations -we have no room to manoeuvre now, we just have to win – draws aren't any good".
Seville's goalless draw in Malaga on Saturday means they have now gone more than seven months without an away win and despite still maintaining a faint hope of a Europa League place, they have won just one game on the road- fewer than any other team in the league. If Emery's side could have reproduced their home form – 12 wins from seventeen, the fifth best record in the division -they would surely be challenging for a top four spot, instead, with home games against Real Sociedad and Valencia in the last three weeks, they will be unlikely kingmakers in the chase for that Champions League place, whilst at the bottom, Osasuna will be happy that their remaining game in Pamplona is against Emery's poor travellers. Seville's contrasting home and away form could end up decisive at both ends of the table.