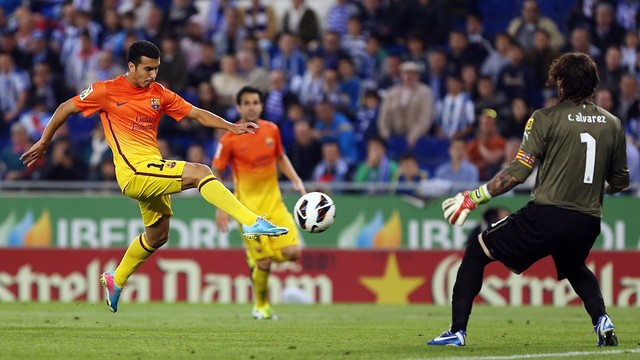 FC Barcelona hosts Malaga on Saturday with the added incentive of matching the league points record and setting or equalling various other records
FC Barcelona clinched the league title two weeks ago but the team still has the chance to reach more landmarks that seemed all but impossible. They have equaled the number of away victories (14) and set a new record for away goals (52). They have just one more match to play – against Malaga in the Camp Nou – and no fewer than four major records within reach.
97 points: If they win on Saturday, Barça will equal the record of 100 points set by Real Madrid last season and overtake their own Club record of 99 points set in the 2009/10 campaign.
52 points at home: Tito Vilanova's team has won an astonishing 17 matches in the Camp Nou so far and drawn just the one. Another win against Malaga will equal their own home record from the 2010 season.
31 victories: In addition, Barça would equal the record number of league victories in one season, also set by Real Madrid last year (32).
111 goals: To be realistic, it will take something really special to break the record for goals scored (121). However, if Barça score three times against Malaga, they will equal the Club record set in the 2011/12 season.
CHAMPIONS 2012/13