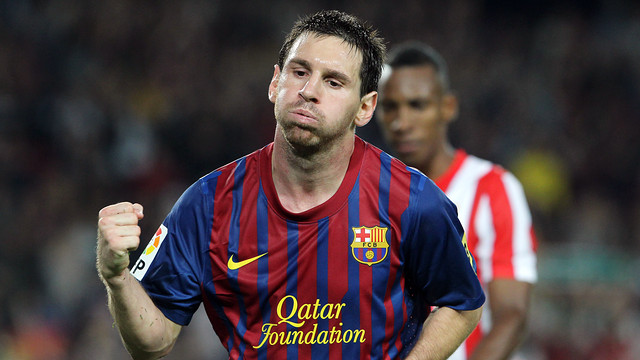 The Argentine striker has scored 17 league goals and 3 in the Cup against Atlético Madrid
Atlético Madrid is the only side to have conceded three hat tricks from the Barça number 10

Leo Messi is Atlético Madrid's worse nightmare. He has netted no fewer than 20 goals against Atlético, 17 in the league and 3 in the Cup. And he'll be looking to add to his tally this Sunday in the Vicente Calderón (kick-off 7 pm, GolT, Canal+ Liga). They're his favoured victim, followed by Real Madrid (18 goals).
Three hat-tricks and three double strikes
Messi has notched up no fewer than three hat tricks against Atlético Madrid. The first was in the first leg of the last 16 Cup match in the 2008/09 season, when his goals turned the tie in Barça's favour in Madrid (1-3). The second hat trick came two years later in a league match in the Camp Nou (3-0). Just seven months later, at the beginning of the 2011/12 season, he added another as Barça thrashed Atlético 5-0. So far, no other team has suffered three hat tricks from the Argentine international.
But the goals don't stop there – he's also notched up three double strikes: in the 2007/08 league campaign (0-6), in 2009/10 (5-2) and earlier this season (4-1). Messi's remaining five goals against Atlético Madrid have all come singly.
Goals in five consecutive matches
Messi has got on the score sheet in the last five consecutive matches against Atlético Madrid. The last time he finished a match against Atlético without scoring was on 14th February 2010, when Barça lost 2-1 in the Calderón, with a goal from Ibrahimovic.