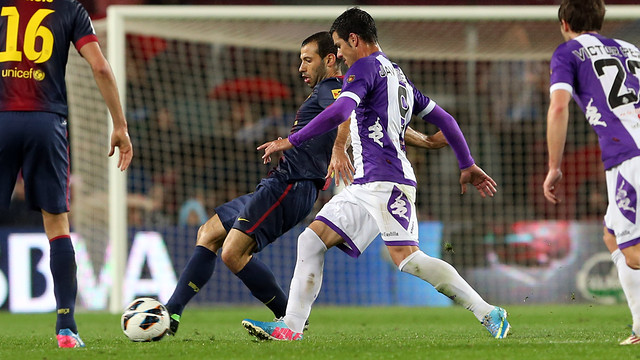 Javier Mascherano: "We should be satisfied with La Liga, it's not easy to win it"
Javier Mascherano returned to FC Barcelona's starting line-up after he picked up a knee injury which effectively kept him off the pitch for six weeks. "The truth is that these past six weeks have been very hard for me, it's always difficult and tough when you get injured, especially when the team is in such a crucial stretch of the season," said the Argentinian.
Pleased with the league title
The center back went on to highlight the team's triumphant league campaign despite the difficulties the year had in store for the Blaugrana. "The league title is what you hope to win from the start of the season. We ended up winning it, but our season could have been better, I'm sure, but I think we should be satisfied with what we've won," he said. "The team has been very consistent, we've won a lot of points and that allowed us to win the league."
Record celebration
"League titles need to be celebrated, you never know when you're going to win one again. We need to celebrate and enjoy each title, now we need to close out the last two games of the season in the best way possible," said Mascherano.
Lastly, the Argentinian went on to talk about the record of 100 points in La Liga. "We're two victories away from reaching the record, and the best way to end the season is by winning our next two games. However, we can't obsess about the record, the objective was to win the league and that's what we've done," he said.
Pedro Rodríguez also talked to the press after the match:
"It's good that we won, we wanted to win for our fans and give a good image of the team"
"We want to compete in these last two games of the season, and if we can win 100 points, even better"
"It was an important goal for me, and I dedicated it to Bryan (his son)"