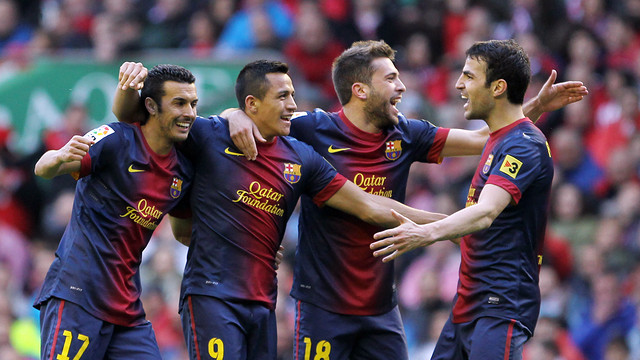 They've already claimed their fourth league title, but Tito Vilanova's side still have challenges ahead of them over the last three games of the season
Reaching 100 points and equalling the number of victories in a season are the two main objectives for the team

The Champions are still in high spirits and the way they took their latest league title is a clear demonstration of that. There are still things to achieve though and the team are determined to carry on with their winning record. Having put in the best ever first half to a season, with 55 from a possible 57 points – including six straight wins to start the campaign – the side are still after more records.
100 points in sight
Tito Vilanova's side are currently on 91 points – a spectacular total in itself, but one Barça could stretch to 100 over the next three games to equal Real Madrid's record setting total from last season. The Club's best total in a league so far was in the 2009/10 season, when they chalked up 99.
If the team can reach that 100 point mark, they will have also enjoyed a record 32 victories, once again equalling Madrid's best ever mark from last season and made it 14 away wins equalling what appeared to be an unreachable total when Pep Guardiola's team achieved it in the 2009/10 campaign.
107 goals so far
The final record that Barça can aim for is the highest number of goals, At the moment it sits at 121, which Madrid managed last season and that looks like a tough total to beat. Barça have 107 so far and with just three games to play, they'll need to average five a game, however, last season's 114 – a club record – is certainly within reach.
One record the team have already beaten is the number of away goals, having already scored 50 in 18 games to better the 2010/11 total of 19 in 49, and that's a total that can only increase at the game against Espanyol in a fortnight's time.