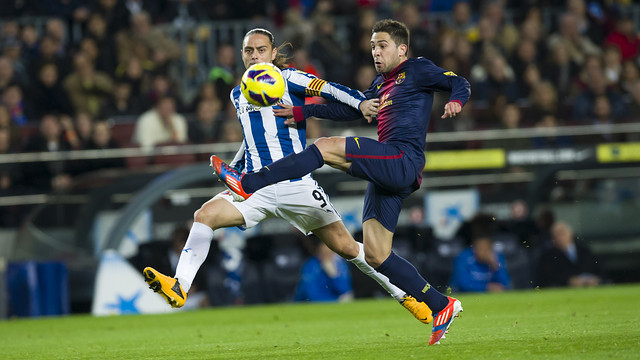 The two local rivals meet on Sunday at 20.00 in the penultimate game of the league season. Here's a look at some curious facts surrounding the clash
– It is the seventh time that there has been a derby in the 37th match of the league season. The other occasions were in 1986/87, 1991/92, 2001/02, 2005/06, 2006/07 and 2011/12
– The sides have played each other 158 times in Liga history. Barça have won 88 of those encounters, and have drawn 36 and lost 34.
– This is the fourth meeting between the two at Cornellà-El Prat, including one game in the Copa del Rey. Barça have yet to lose, following three draws (1-1 in 2011/12, 0-0 in 2009/10 and 0-0 again in the Copa del Rey match of 2009/10), and one win (1-5, 2010/11).
– Barça have not lost away to Espanyol since going down 3-1 in 2006/07 at the Olympic Stadium.
– Barça's biggest ever away win to the blue-and-whites came just two years ago, 5-1. They also won 4-0 at the old Sarria ground in 1981/82.
– Andoni Zubizarreta holds the club record for the most games against Espanyol, 32.
– Xavi Hernández is the active player with the most matches against Espanyol behind him. Only the aforesaid Zubizarreta and the legendary Quini have faced the 'parakeets' more often, although both those cases also include matches played for other teams.
– Xavi has played Espanyol 26 times to total 2,183 minutes of derby experience.
– Barça go into the game with a 50 point lead on Espanyol.
– This is the 18th time that FC Barcelona have faced a side coached by Javier Aguirre, who before Espanyol was also in charge at Osasuna, Atlético Madrid, Zaragoza and Espanyol. The Mexican has only won two of those games. The others ended in five draws and ten Barça wins.