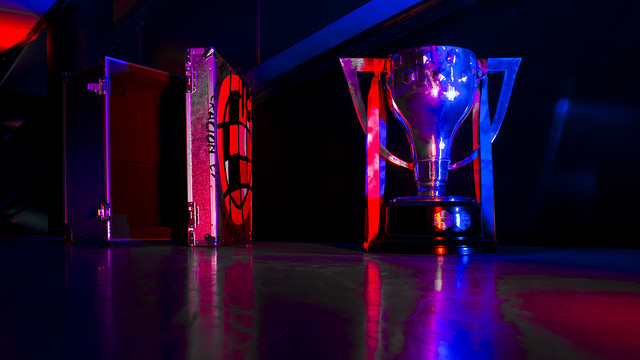 The team will be receiving the championship trophy after the match with Valladolid on a night of many surprises
The celebrations of the 22nd Liga title at the Camp Nou, following the game with Valladolid, will be shown live on Barça TV and will also be streamed on www.fcbarcelona.com
Live on Barça TV and website
The celebrations of the 22nd Liga title at the Camp Nou, following the game with Valladolid, will be shown live on Barça TV and will also be streamed on www.fcbarcelona.com
On Sunday night, the Camp Nou will be celebrating Barça's Liga title. It'll all be happening after the game with Valladolid (which kicks off at 21.00)). The trophy arrived at the club this Friday ready for presentation to FC Barcelona for the 22nd time.
The party gets going at about 23.00, with the president of the Spanish Football Federation presenting the all-important silverware to FC Barcelona captain Carles Puyol.
Champions honours
The night will continue with a sound and light show that includes a host of different surprises, including highlights on the video scoreboard of the team's triumphant March to its fourth title in five years. Also, as is only to be expected on a night like this, fans can rest assured that there will also be plenty of music, fireworks and confetti!
History repeating
Curiously enough, just three years ago, in 2010, Barça also celebrated the Liga title at the Camp Nou with a game against Valladolid, which the home side won handsomely, 4-0. But that was not the last time that the Barça fans were able to celebrate winning the Liga trophy. Last year, in the penultimate and otherwise largely meaningless game against Deportivo, Barça were able to celebrate title number 21.
LA LIGA CHAMPIONS