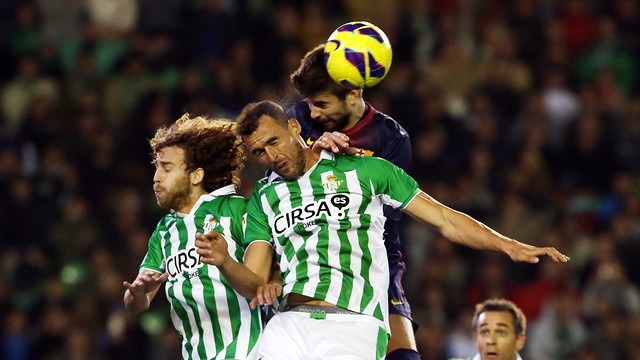 Only Barça and Madrid have won more games on the road this season than the next team to visit the Camp Nou
But they have not won away to FCB since 1997/98 in a fixture that tends to be produce more than its fair share of goals

On Sunday at 21.00, the Camp Nou welcomes Betis. Without making a big song and dance about it, the green-and-whites have been one of the best away teams this campaign. Only Barça (12) and Real Madrid (9) have won more times on the road than Betis (7). They have accumulated the fourth highest number of away points, behind the big two and Atlético Madrid, along with Real Sociedad, who have also collected 23.
Attacking style
Pepe Mel has created a very attack minded side. Rubén Castro and Jorge Molina have been their main goal-getters this term, while just about every attacking play passes by the impressive Beñat. This combination has helped the Andalusians to become the third highest scoring team outside of their own stadium, with 26 goals, a record only bettered by Barça (48) and Madrid (32).
But such ambition does not always work in their favour. Although their high-risk approach has produced seven wins away from the Benito Villamarín, they have also lost seven, with just two away draws. And the 32 goals they have let in on their travels is the fourth poorest record in the whole competition.
Camp Nou, a difficult trip
Betis need a result at the Camp Nou to remain in contention for a place in the Europa League. They're four points short of that target at the moment, and history is not on their side. They have not won in the FCB stadium since 1997/98, having drawn twice and lost nine times. But the games have traditionally been explosive affairs. The last eleven encounters between these two clubs in Barcelona have produced an average of 4.3 goals.