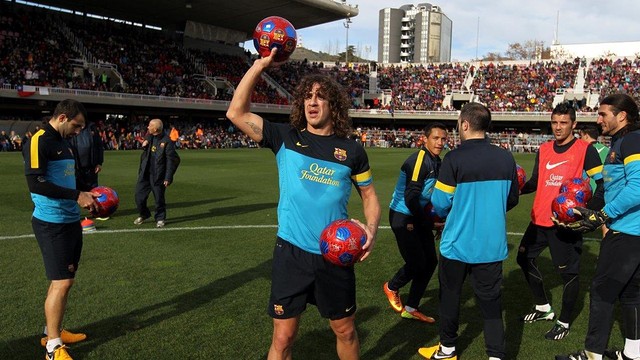 FC Barcelona will host two football clinics in the Middle East this August. The first will be in the Palestinian Territories on August 3 and the second will be in Israel on August 4
All proceeds of from the FC Barcelona Peace Tour will be donated to the promotion of peace between Israelis and Palestinians through the values of sport
FC Barcelona, with the full cooperation and support of the Government of Israel and the Palestinian National Authority, will host two football clinics for peace next August. One will be in Israel and the other in the West Bank and both will involve children from Israel and the Palestinian Territories.
FC Barcelona wants to thank Israeli Prime Minister Benjamin Netanyahu for his personal commitment to this project, as well as President Shimon Peres and the President of the Palestine National Authority Mahmoud Abbas for their vision and leadership.
The Peres Center for Peace, the Israeli Football Association and the Palestinian Football Association will all be involved in the events. The Government of Israel and the Palestinian Authority will provide all necessary assistance.
Leo Messi, Xavi Hernández, Andrés Iniesta, Gerard Piqué, Carles Puyol, Cesc Fàbregas are amongst the players from FC Barcelona that will be paying a visit to the Palestinian Territories on August 3, and to Israel on August 4. The team will travel with their families, friends and fans and they are looking forward to the warm hospitality of both the Israelis and the Palestinians.
FC Barcelona has become a channel for dialogue between Israelis and Palestinians. The FC Barcelona Foundation has organised sports activities between the two communities in the past and is committed to continuing to do so as part of its ongoing effort to bring peace to the area.
FC Barcelona is firm in its commitment to promote freedom and democracy. The Club's long relationship with UNICEF puts children at the very centre of our initiatives.
All proceeds of from the FC Barcelona Peace Tour will be donated to the promotion of peace between Israelis and Palestinians through the values of sport.