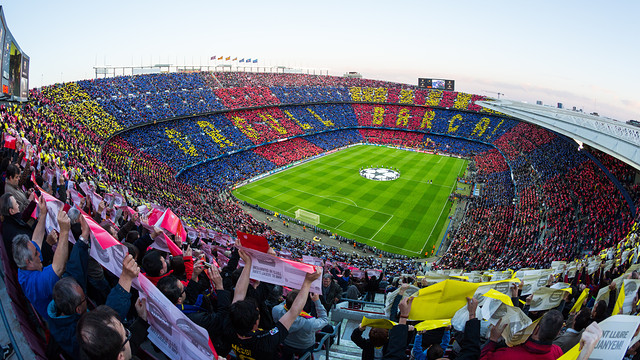 95,877 fans flocked to the stadium to watch the Champions League semi-final between FC Barcelona and Bayern Munich
Xavi Pascual, Barça Intersport's manager, Marc Carmona, Barça Alusport's manager, and Ricard Muñoz, FCB roller hockey team's manager were all in attendance
The return leg of the Champions League semi-final between FC Barcelona and Bayern Munich brought 95,877 fans to the Camp Nou, making it was the third most attended match of the season for the Blaugrana. At the start of the match, the fans held up a mosaic that read 'Barça, Pride, Barça'.
The two other matches at the Camp Nou that saw more fans watch the team live were the return leg of the Champions League quarter-final against PSG (96,022) and the league match against Real Madrid (96,589).
Presidential box full of familiar faces
The Camp Nou's presidential box hosted some familiar faces this Wednesday. President of the Generalitat Artur Mas was in attendance as was the Mayor of Barcelona Xavier Trias and the Minister of Culture Ferran Mascarell.
In addition to the political figures, Barça Intersport's manager Xavi Pascual, Barça Alusport's manager Marc Carmoan and FCB roller hockey team's manager Ricard Muñoz were all in attendance.