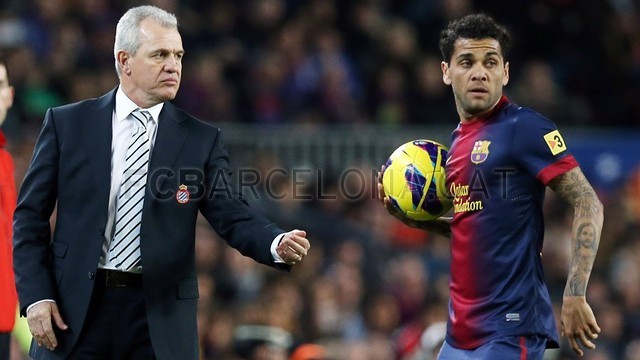 The Mexican has faced Barcelona seventeen times in the past and has only managed the winning side twice
His first win came in his days at Osasuna, and the second when he was with Atlético Madrid

Javier Aguirre will be managing Espanyol in his second derby on Sunday night. His first experience of the local rivalry was not a good one, with his side crumbling to a 4-0 loss.
Used to suffering
But although he has only been on the Espanyol bench in one game against Barcelona before, he knows what to expect. He had already faced the Blaugrana as many as sixteen times as manager of three other sides: Osasuna, Atlético Madrid and Zaragoza.
And what he has come to learn in those games is that beating Barça not an easy thing to do. But he did manage it twice. The first win came in 2006/07, when his Osasuna came out tops thanks to goals from Puñal and Valdo after Henrik Larsson had put the Catalans into an early lead. He also enjoyed success a year later, in 2007/08, when his new club, Atlético Madrid, got the better of Barça, winning in 4-2 in the club's last season under Frank Rijkaard.
Goals galore
One thing that we can usually expect whenever Aguirre manages a side against Barça is plenty of goals. Not one of the seventeen previous games has ended scoreless. Barça have always managed to find the net at least once, racking up an overall total of 42 goals.
The 6-1 win against Atlético Madrid and the 4-0 defeats of Zaragoza and Espanyol will be memories that will particularly be haunting the Mexican's mind as he makes his plans for Sunday. Neither will he be particularly encouraged by the thought that in seventeen previous attempts, his teams have only managed to score 14 goals against FC Barcelona.