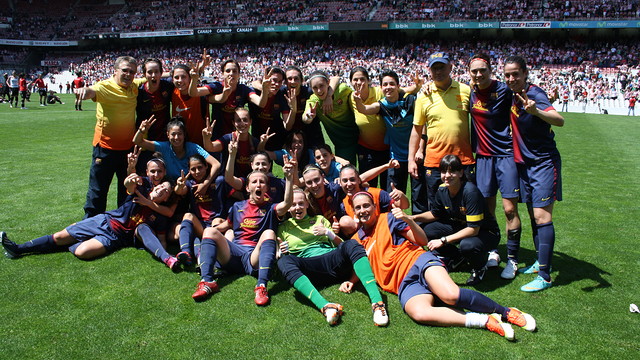 The FCB Women's Team claimed the league title after defeating Athletic Club at the San Mamés in front of more than 25,000 spectators
Melanie and Kent Robles scored to give Barça a 1-2 win at La Catedral
This is the team's second league title
MATCH FACTS
ATHLETIC CLUB, 1
FC Barcelona Women's Team, 2
Athletic Club: Ainhoa, Irene, Flaviano, Nekane, Murua (Gurutze, min 55), Iraia (Tzibi, min 66), Orueta, Olabarrieta, Ibarra (Eunate, min 79), Erika and Leire
Bench: Ane, Arranz, Manu and Silvia
FC Barcelona Women's Team: Ràfols, Lau, Meli, Marta Unzué, Melani, Virginia, Miriam, Vicky (Gemma min 74), Corredera (Kenti, min 65), Sonia Bermúdez and Alexia (Olga min, 65)
Bench: Ester, Ani, Zaira i Guti
Referee: Óscar Martínez Santos
FC Barcelona's Women's Team were crowned champions of the league at the San Mamés this afternoon. Barça needed to win the match – the second to last game of the season – in order to overtake Athletic Club at the top of the table, and they did it by winning 1-2.
Xavi Llorens' women quickly took the lead – after only two minutes – thanks to a fantastic free kick taken by Melani. Given the very quick goal from the Blaugrana, Athletic Club's approach to the match changed very quickly. However, despite Athletic's attempts to score the equaliser, it was Barça who could have scored the 0-2 thanks to two very clear chances for Sonia Bermúdez.
The ball didn't go in, however, and Barça paid for it dearly: the last play of the first half ended in a goal for the home team. It came from a long-range free kick taken by Ibarra; no one touched the ball and it ended up catching Barça's keeper, Ràfols, off guard.
Kenti clinches La Liga
At the start of the second half, Athletic Club picked up their intensity even more as they looked for the go-ahead goal. Xavi Llorens brought in two fresh players, one of whom was Kenti Robles; she went on to score the match winner on the 72nd minute.
The end of the match saw the home team lay siege to Barça's goal. Nekane fired the ball to the woodwork but it wasn't enough to stop Barça's Women's Team from winning the league title. Champions!