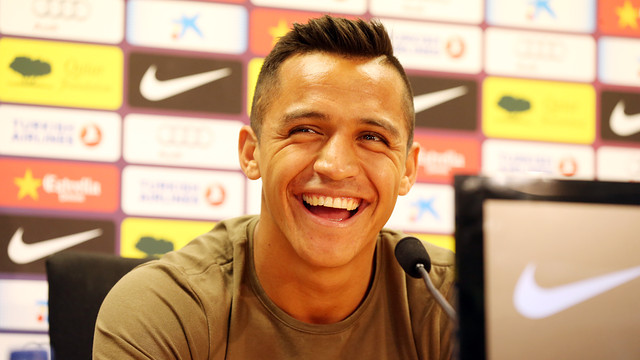 "I hope to offer a lot more of myself next season" said the Chilean in today's press conference. "I can do a lot more."
"Playing for Barça is like starting football all over again. I have learned a lot of things" added Alexis Sánchez
Alexis Sánchez spoke to the press on Friday and announced that he expects to still be playing for FC Barcelona next season, a wish he claims to share with the club. "They want me to stay and I am very happy to do so" said the Chilean. "I hope to offer a lot more of myself next season. I am pleased with what I have managed to do so far, but I can do much more … I never give up and I hope to be able to things even better next year".
Competition in attack
Alexis played 27 league games this season, and spoke about his place in the starting eleven. "It is very hard to be a first team regular at Barça. There are some very good strikers like Villa, Tello and Pedro, they're really very good" he said. "Playing for Barça is like starting football all over again. I have learned a lot of things. I won't grade my performances this year, but I'll try to do even better next season".
All's well that ends well
Alexis Sánchez's immediate goal is for the team to end the season with back-to-back wins against Espanyol and Malaga. "It's a big game against Espanyol, Barça always have to win every game and this will be a difficult opponent" said the man who has just won his first Spanish championship with Barça. "This was an important title for us, and everything that happened with our manager and with Abidal motivated us that little bit more".