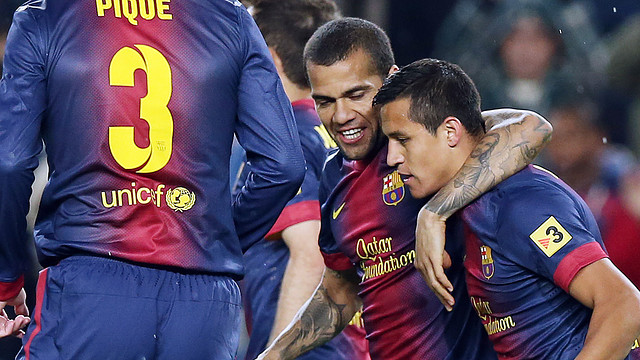 The Chilean striker has been involved in 11 of the 22 goals that Barça have scored in their last eight matches, with five goals and six assists
– Alexis has scored five goals and claimed six assists in the last eight league matches, meaning he was directly involved in eleven out of 22 FCB goals. The Chilean found the target against Deportivo (2), Mallorca, Bilbao and Betis.
– Pinto has now played more games than last season. But his 14 appearances are still short of the 17 he amassed in the 2010/11 season.
– For the first time this season, Barça scored from two headers in the same game: Alexis scored with his head after 9 minutes, and Villa did likewise after 56.
– Barça can still reach 100 points this season, something Real Madrid have only done before. To do so, they would need to win all of their last four matches, against Atlético Madrid, Valladolid, Espanyol and Malaga).
– David Villa, who scored the goal that made it 2-2 last night, finally ended an eight-match goal drought in the league. The last time he had scored was against being Rayo.
– Alves has started 10 consecutive games, the longest current streak for any of the players in the squad.
– Piqué and Adriano, the centre backs against Betis, won the most balls, 15 and 16 respectively.
– This was the first time Xavi had played the full 90 minutes since the Real Sociedad match on January 19.