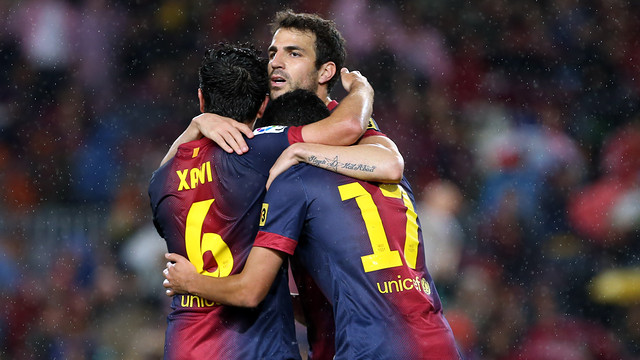 A goal from Pedro and an own goal by Marc Valiente gave Barça the win that takes them to 94 points
Nothing can stop Barça in the league this season. Tito Vilanova's men chalked up another win at the Camp Nou tonight, seeing off Valladolid in what proved to be quite a tricky game. The game was a tester physically, played in the pouring rain, and mentally with the title already won, but Barça did the job and took a two goal lead into the break – thanks to a Pedro strike and an own goal from Marc Valiente. Valladolid managed to pull a goal back from the penalty spot late on but nothing was going to stop Barça from celebrating the title in front of the Camp Nou faithful with a win, despite the rain and cold.
The team maintained their bid for 100 points then, with just Espanyol and Malaga standing between them and that fantastic total.
Xavi and Pedro make the opener
Barça needed to a little time to settle into the game – though they dominated possession from the off – but once they clicked the game became something of a monologue, with Villa looking sharp up front. Xavi and Pedro combined to open the scoring on 21 minutes, when the Catalan midfielder pounced on a lost ball from Rueda to release Pedro, who drove his shot low past the keeper.
Valiente own goal
Sergio, Iniesta, Xavi and Cesc upped the tempo in the centre of the pitch and only a lack of finishing kept the score at 1-0 until ex-Barça man Marc Valiente was unlucky to misclear from a corner just before half time and put through his own net. Two up at the break and it looked as if Barça were on course for a bigger score.
Barça come close to making it three
Barça came out looking for more goals and Valladolid were unable to threaten Valdes – making his 400th appearance for the Club – with the result never really looking in doubt. Barça probed the visitors defence and Xavi, Pedro and Cesc all came close to making it three. Tito brought on Thiago, Dos Santos and Tello late on and Villa and Pedro both had chances to increase the lead.
Penalty for Valladolid
However, it was Valladolid who ended up getting the only goal of the half, as Montoya fouled Manucho in the box and Victor Perez hit home the penalty. There was still plenty to celebrate though, as the rain stopped and the fans began to prepare for the post match party to honour the new League Champions.