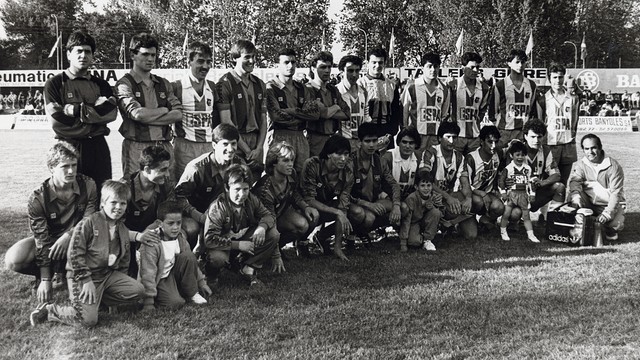 Vilanova made his debut in a friendly against Banyoles in 1989.
Bayren Munich's future coach Josep Guardiola also made his debut in the game

Today marks the 24th anniversary of Tito Vilanova's debut with the Barça first team. Just as May 1st 2'13 is a big day in Tito's career, so was May Day 1989, when the team visited Banyoles as part of CD Banyoles' 75th anniversary celebrations. Vilanova came on at half time in the game, which ended 2-6 for Barça.
Berne Final on the horizon
The game took place just 24 hours after the first team had thrashed Oviedo 7-1 and just nine days ahead of the Cup Winners Cup Final in Berne, which Barça won 2-0 against Sampdoria. Johan Cruyff only sent out two first team players for the full 90 minutes (Carrasco and Soler) and played a number of young Barça B players. There was even a Youth team player in the squad who started the game and made his debut – Josep Guardiola. "You were slower than my grandmother", Cruyff told the young Guardiola, before he replaced Guardiola with Tito Vilanova, who played the whole of the second half. Aureli Altimira and Jordi Roura, currently members of the coaching staff, also played in the game.
In front of a packed crowd, Barça had few problems seeing off the home side and were three goals up at half time, with goals from Pozanco, Linde and Carrasco. Cruyff made nine changes at the break, bringing on Unzué, Herrera, Sergi, Emilio, Javi, Vilanova, Müller, Roura and Altimira.
Vilanova, two years with Barça Atlètic
Tito Vilanova had come up through the Club's youth teams and played for Barça Atlètic for three seasons between 1988 and 1990. He only played twice for the first team during that time – in two friendlies, the win in Banyoles and another game in Palamos, coming on in the second half in both games. He left the Club to join Figueras where he spent two years before moving to Celta. In Vigo he scored one goal in 27 appearances over his only three seasons in the top flight, moving on to play in the second division with Badajoz, Mallorca, Lleida and Elche. His final team was Gramenet, where he retired in 2002.