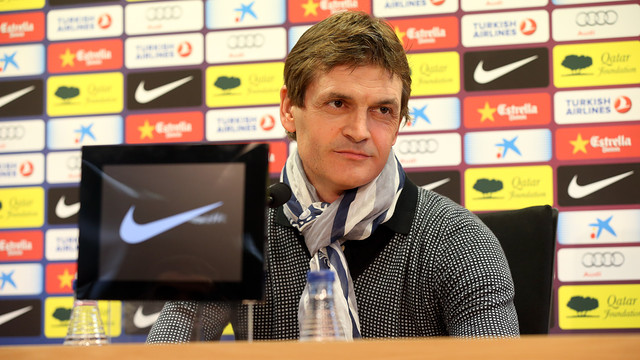 L'entrenador ha explicat que cada dia que passa se sent millor i que té "moltíssimes ganes de continuar" entrenant l'equip la temporada que ve
Agraeix l'esforç dels jugadors i de l''staff' tècnic durant la seva absència, especialment la tasca de Jordi Roura i Aureli Altimira
Considera que el Barça té l'obligació davant dels seus aficionats de demostrar que és capaç de competir i guanyar el Bayern de Munic

The pressroom at the Ciutat Esportiva Joan Gamper was especially busy today, with the media keen to hear what Tito Vilanova would have to say in his first official press conference since returning to Barcelona. The coach was highly optimistic about the situation and also spoke frankly about his future, saying that "I feel strong, and health permitting, I'm looking forward to continuing in the job … I feel well after all that I've been through, I didn't come back any earlier because there were some secondary effects. But I'm feeling better with every day and I was really looking forward to returning here."
He went on to say a bit about how he had remained in contact with his work while he was in the United States. "There were problems due to the distance. But in New York, my day to day life was generally good, and I was able to keep in contact with the team thanks to new technologies." There were some tough moments, but he never considered giving up his position. "If ever I get two days off, I don't know what to do. This job is no burden to me and the doctors told me that the best thing I could do was to work".
A grateful coach
Vilanova especially singled out his fellow coaches for praise, saying that "Roura and Altimira have done an exemplary job at a very high level … In any other place this situation of not having a manager would have been a big problem. It was a difficult decision for the Club, but I'd have accepted it, whatever it was … The Club's work-rate and commitment has been extraordinary, we should be pleased with these players for managing to hold their place in the league and reach the Champions League semi-finals for the sixth year running".
The Bavarian challenge
Tito Vilanova was also pressed on more sports-related issues, and particularly the heavy defeat at the Allianz Arena. "Bayern truly did come into the game on spectacular form, and although we didn't play badly, we weren't at our best. But 4-0 was not a fair reflection" he said. "But we are Barça and it is our obligation to go out in front of our fans and show them what we are made of, to compete and try to win. We'll see what happens. We have to play confidently. I know it will be difficult, but I'm not throwing the towel in".
Liga, the sooner the better
But before that, Barça visit San Mamés, knowing that they could actually clinch the league title this weekend. "I don't care when we win it, but the sooner the better" said Vilanova. "I want us to be the champions." In general, although he accepts there was room for improvement, he is happy with the way the season has gone. "We are having an excellent league, I'm convinced that we're in the strongest league there is, and getting so many points shows that we are doing things right".
Looking ahead
The names of various players came up during the press conference, but Vilanova preferred not to dwell too much on those matters. "The most important part of the season is upon us, and it's not the time to be speaking about players coming or going" he said. Neither did he think that the 4-0 defeat in Munich had to change the way people are thinking about the bigger picture. "All year we are panning for the following season and I don't think there need to be any big changes to what has already been spoken about. It is not easy to make this team any better". On two of the most sensitive cases, Abidal and Valdés, he did have something to say. On the Frenchman, he commented that "he'll keep taking things a step at a time as he has done until now" while regarding the goalkeeper he commented that "I'd have no problem if he were to decide to stay for another year". Valdés' contract ends in 2014 and he has already announced that he does not intend to renew it.